Berlin Tegel Airport Webcam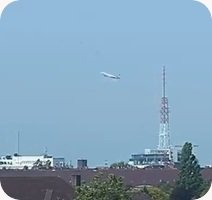 Webcam Viewing Options::
Cam Location: Off-Airport. Office building S. of Tempelhof.
Cam View: NW to NE at arrival/departure traffic on skyline. Foreground shows disused Tempelhof Airport. Tegel is located approx. behind Tempelhof control tower.
Cam Refresh Speed: Streaming.
Notes: Cam fixed on autobahn traffic between 5.30-7am & 1-3pm UTC.

© 2018 - Airport Webcams.net