December 13, 2013
King County International Airport (aka Boeing Field), Washington, USA
IATA: BFI ~  ICAO: KBFI
UTC: -8 ~  TYPE: National
Flight Traffic:
Flight Data: 
FlightStats  ~  FlightAware ~ Airport Data
Airport Links: 
Notes: Home to Boeing's 737 factory, plus paint shop & flight test facility.
See also Paine Field, home to Boeing's 747 to 787 factory, and Renton Municipal, adjacent to the Boeing 737 factory & used for ground & flight tests.

We've selected the best spotter videos & on-board videos from this airport.
See them on our Boeing Field Airport Videos Page. See all our Airport Videos Pages.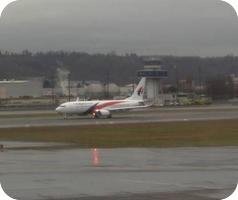 Webcam Viewing Options::
Cam Location: On-Airport. Hangar.
Cam View: 2 cams. NW & SW at Runway 13/31L&R, & Boeing 737 flightline.
Cam Refresh Speed:: 30 seconds manual (automatic in Javacam).