Airport Webcams.net archive
Category: Gibraltar
March 23, 2014
Gibraltar International Airport (aka North Front Airport, officially RAF Gibraltar), Gibraltar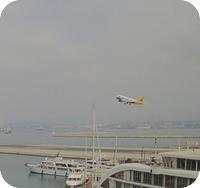 IATA: GIB ~  ICAO: LXGB
UTC: +1 ~  TYPE: International, Military
Flight Traffic:
Flight Data: 
FlightStats  ~  FlightAware ~ Airport Data
Airport Links: 
Webcam Viewing Options::
Cam Location: Off-Airport. Ocean Village complex.
Cam View: NW at Runway 09 Hold and approach.
Cam Refresh Speed:: 3 seconds automatic.
* Currently offline.
Cam Location: Off-Airport. Area view from Alcaidesa Marina, Spain.
Cam View: SW. Runway 09/27 at left of image.
Cam Refresh Speed:: 6-10 seconds.
Notes: The main street crossing the runway prohibits more than a few flights per day (until a new underpass opens). The airport is offically RAF Gibraltar, owned by the UK MoD.
We've selected the best spotter videos & on-board videos from this airport.
See them on our Gibraltar Airport Videos Page. See all our Airport Videos Pages.