Airport Webcams.net archive
Category: St Barthelemy
December 24, 2013
Gustav III Airport (aka Saint Barthelemy Airport, St. John Airport; Aerodrome de Saint Jean), Saint Barthelemy, Caribbean
IATA: SBH ~  ICAO: TFFJ
UTC: -4 ~  TYPE: International
Flight Traffic:
Flight Data: 
FlightStats  ~  FlightAware ~ Airport Data
Airport Links: 
We've selected the best spotter videos & on-board videos from this airport.
See them on our St Barth's Airport Videos Page. See all our Airport Videos Pages.
Notes: One of the world's most extreme approach airports due to proximity of road, high terrain and short runway. See also St Maarten Princess Juliana Airport.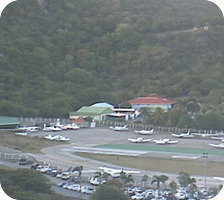 Webcam Viewing Options::
Cam Location: Cams 1 to 3: Off-Airport. Building S. of airport. – Cam 4: La Plage Restaurant, E. of airport.
Cam View: Cams 1 to 3: W, NE & N at Runway 10/28, taxiways, apron & hangarage. – Cam 4: Beach E. of Runway, showing Rwy 28 Arrivals from right, Rwy 10 deps. from left.
Cam Refresh Speed:: Streaming.