April 3, 2016
Chambery Airport (Chambery-Savoie Airport, Chambery Aix-les-Bains Airport, Aerodrome de Chambery-Savoie), NW of Chambery, France
IATA: CMF ~  ICAO: LFLB
UTC: +1 ~  TYPE: International
Flight Traffic:
Flight Data: 
FlightStats  ~  FlightAware ~ Airport Data
Airport Links: 
We've selected the best spotter videos & on-board videos from this airport.
See them on our Chambery Airport Videos Page. See all our Airport Videos Pages.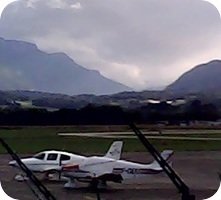 Webcam Viewing Options::
Cam Location: 2 cams: On-Airport. Airport buildings. – 1 cam: Off-airport, NW of runway.
Cam View: 3 cams. S & NW at aprons, Runway 18/36. Additional cam pans around Lac du Bourget (N of airport). Shows occasional traffic.
Cam Refresh Speed: 2 cams: 5 minutes automatic. – 1 cam: Streaming.
Notes: Arrivals are Southerly onto Runway 18; Departures are Northerly from Runway 36.