February 5, 2015
Chamois Airfield (Chamois Altiport), Chamois, Valle d'Aosta, Italy
IATA: n/a ~  ICAO: n/a
UTC: +1 ~  TYPE: General (Grass)
Flight Traffic:
Airport Links: 
We've selected the best spotter videos & on-board videos from this airport.
See them on our Chamois Airport Videos Page. See all our Airport Videos Pages.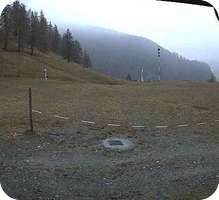 Webcam Viewing Options::
Cam Location: On-Airport. Airport building.
Cam View: SW at Runway 06/24, parking area.
Cam Refresh Speed:: 10 minutes manual (automatic in Javacam).
Notes: One of the world's extreme airports, Chamois runway is on a gradient with approaches uphill on 06 only, departures downhill on 24 only.