August 20, 2014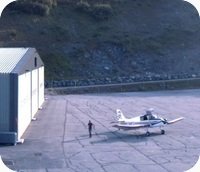 Webcam Viewing Options::
Cam Location: On-Airport. Airport structure.
Cam View: Panoramic pan of entire airport.
Cam Refresh Speed:: 10 minutes manual.
Notes: One of the world's most dangerous airports for approaches. Elevation is 6,588ft but with a runway length of only 1,722ft on a gradient of 18.5%.