January 30, 2016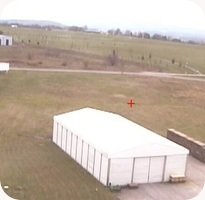 Webcam Viewing Options::
Cam Location: Off-Airport. DJ GmbH building to NW of airport.
Cam View: SE at airport, hangars, Runway 09/27. Controllable.
Cam Refresh Speed: Streaming.
Notes: From the drop-down menu, select 'Camera 1' to show hangar & runway beyond. Use Pan, Tilt & Zoom sliders to change view.