December 4, 2013
Dusseldorf Airport (Flughafen Dusseldorf), Dusseldorf, Germany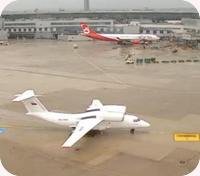 IATA: DUS ~  ICAO: EDDL
UTC: +1 ~  TYPE: International
Flight Traffic:
Flight Data: 
FlightStats  ~  FlightAware ~ Airport Data
Airport Links: 
Webcam Viewing Options::
Cam Location: Cam 1: On-Airport. Building at NE of airport, near Runway 23L Hold.  –  Cam 2: Structure opposite International pier.  –  Cam 3: Hangar exterior.
Cam View: Cam 1: NW at Rwys 05/23L&R.  –  Cam 2: NE at Terminal Gates.  –  Cam 3: NW at mid-point of Runways 05/23L&R & Apron.
Cam Refresh Speed: Streaming.
Notes: Security delay of 12 minutes. See key for tips on viewing delayed-broadcast cameras.
We've selected the best spotter videos & on-board videos from this airport.
See them on our Dusseldorf Airport Videos Page. See all our Airport Videos Pages.