June 13, 2014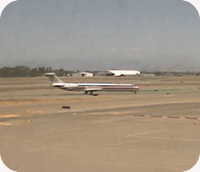 Webcam Viewing Options::
Cam Location: On-Airport. Offices of APR Aviation, NW of Terminal.
Cam View: SE at Runways 01/29L&R & taxiways. Terminal off-right of cam.
Cam Refresh Speed:: Streaming.
Notes: Also home to the 144th Fighter Wing of the California Air National Guard; also base for forest fire water bomber fleets. * Cam currently offline.