December 6, 2013
Friedrichshafen (Bodensee) Airport (Flughafen Friedrichshafen), Friedrichshafen, Germany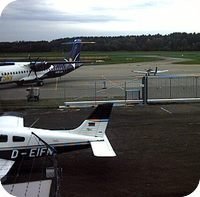 IATA: FDH ~ ICAO: EDNY
UTC: +1 ~ TYPE: International
Flight Traffic:
Flight Data:
FlightStats ~ FlightAware ~ Airport Data
Airport Links:
We've selected the best spotter videos & on-board videos from this airport.
See them on our Friedrichshafen Airport Videos Page. See all our Airport Videos Pages.
Webcam Viewing Options::
Cam Location: 4 cams. On-Airport. Hangar interior & exterior
Cam View: Terminal, Apron, Rwy 06/24 & Hangars.
Cam Refresh Speed: 2-15 seconds manual (automatic in Javacam).
Cam Location: Off-airport: Offices.
Cam View: SW at Airport (Flughafen preset) or Runway 06/24 (Flughafen Landbahn preset).
Cam Refresh Speed: Cam 2: Streaming.
Cam Location: Deutsche Zeppelin-Reederei hangar at N. of airport.
Cam View: Zeppelin apron, Runway 06/24 and airport terminal beyond. Use Pan, Tilt & Zoom sliders to change view, & drop-down menu for preset views.
Cam Refresh Speed: Streaming.