March 6, 2014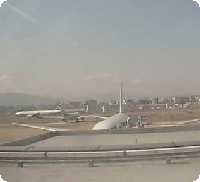 Webcam Viewing Options::
Cam Location: On-Airport. Terminal building.
Cam View: NE at gates, apron & Runway 16/34.
Cam Refresh Speed:: 5-7 minutes.
Notes: Camera can display previous 8 frames. Press left button |<< to rewind, then fourth button >> to progress through frames. The middle button > can then be used to cycle through the frames automatically.