April 3, 2015
Glasgow International Airport, Glasgow, Scotland, UK
IATA: GLA ~  ICAO: EGPF
UTC: 0 ~  TYPE: International
Flight Traffic:
* ATC link requires free registration at GlobalTuners.com
Flight Data: 
FlightStats  ~  FlightAware ~ Airport Data
Airport Links: 
We've selected the best spotter videos & on-board videos from this airport.
See them on our Glasgow Airport Videos Page. See all our Airport Videos Pages.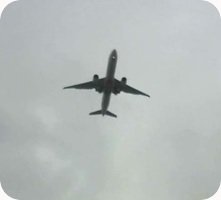 Webcam Viewing Options::
Cam Location: Off-Airport. Personal residence in Johnstone, 3 mi SW of airport.
Cam View: SW at Rwy 05 Arrivals & 23 Departures.
Cam Refresh Speed: Streaming.
Notes: 8th busiest airport in the UK.
* Cam currently offline.