December 6, 2013
Honolulu International Airport, Honolulu, Hawaii, USA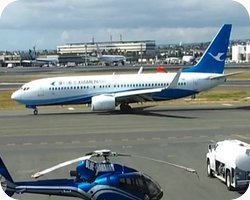 IATA: HNL~ ICAO: PHNL
UTC: -11 ~ TYPE: International, Military
Flight Traffic:
Flight Data:
FlightStats  ~  FlightAware  ~  Airport Data
Airport Links:
Notes: Hickam Air Force Base at NW of airport also use these runways. USAF fighters, tankers and transporters can be seen every day.
Frequently used as fuel stop for Boeing 737 customer deliveries to Far East from Boeing Field.
Webcam Viewing Options::
Cam Location: On-Airport. Blue Hawaii Helicopters building, S of Rwy 26R Approach
Cam View: Runways 04/22L&R and 08L/26R.
Cam Refresh Speed: Streaming.
Cam Location: Off-Airport. Building in Waikiki.
Cam View: Runways 08/26L&R, 04/22L&R.
Cam Refresh Speed: Streaming.
Instructions for viewing airport: Click 'Control' icon at bottom right of video window to take control or join queue. When in control, icon changes to green, then select 'Airport Reef Runway' (for zoom on Runway 08R/26L) or 'Home' (for a wider view) from the drop-down menu at top right of video window (click on video image after selection to make the change).
We've selected the best spotter videos & on-board videos from this airport.
See them on our Honolulu Airport Videos Page. See all our Airport Videos Pages.