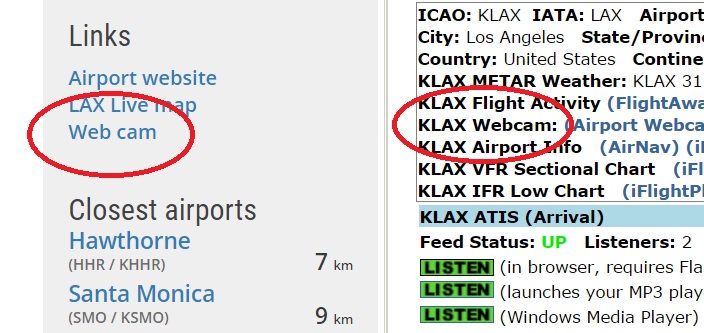 FlightRadar24.com
– Displays live radar traffic direct from aircraft's digital transponders. See also Notes section below regarding synchronizing FR24 icons with delayed-broadcast webcams.
FR24 now links to more than 600 of our webcam pages!
Go to FlightRadar24.com's Airport Database and search for an airport by IATA code, ICAO code, Airport Name or City to view the new-look Airport data pages, providing live Arrivals, Departures, Aircraft On Ground, Weather, Delays and more. In the left-hand column look for the Web Cam link (see image on the right) which will take you to the Airport Webcam page at our web site.
LiveATC.net – The primary online database for live air traffic control listening.
LiveATC now links to more than 240 of our webcam pages!
Go to LiveATC.net and use the search box to find an airport using its ICAO code or by Name. At the top of the frequency listings look for the Webcam link (see image on the right) will will take you to the Airport Webcam page at our web site.
FlightStats.com – Detailed timetables for most world airports. Select: 'Arrivals' or 'Departures' from the tabs, then select 'Hide Codeshare' and 'Update' to remove the airline codeshare details. Schedules are for the whole day. Times are airport local.
FlightAware.com – Similar to FlightStats but with much more coverage for North America, down to light aircraft. Covers mostly the larger airlines for airports outside of North America. Schedules are for forthcoming flights only in free edition. Times are UTC/GMT.
UTC: Time difference from UTC (also known as GMT, or Greenwich Mean Time). Some countries gain or lose an additional hour during summer time.
NOTES: Some airports prefer to delay the broadcast of their webcams for security reasons, which can prove confusing when viewing cams with other web sites. To view FlightRadar24.com in synch with delayed cams, simply use their Playback feature on the left-hand menu, adjust local airport time to UTC, then subtract the number of minutes delay. For example, Dusseldorf's webcam traffic at 1500 local is 1400UTC minus 12 minutes delay, so FR24's Playback should be set to 1348UTC. Note that Playback runs at 12x real time, so pausing is required to keep it in synch.
ZOOM: For browser-based webcams, use your browser's Zoom function. This can often be found on one of the menus across the top of the screen. Keyboard shortcuts CTRL, + and CTRL, – often work too (+ and – are on the number keypad to the right of the letter keyboard).