December 11, 2013
Lake Hood Seaplane Base, Anchorage, Alaska, USA
IATA: n/a ~  ICAO: PALH
UTC: -9 ~  TYPE: General (Runway)
Flight Traffic:
Flight Data: 
FlightStats  ~  FlightAware   ~   Airport Data
Airport Links: 
We've selected the best spotter videos & on-board videos from this airport.
See them on our Lake Hood Airport Videos Page. See all our Airport Videos Pages.
Notes: Lake Hood is the world's busiest seaplane base, and is adjacent to Anchorage International Airport.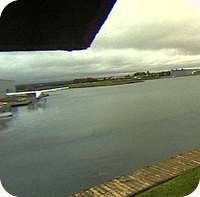 Webcam Viewing Options::
Cam Location: Site 1: Numerous structures around airfield. – Site 2: Building at S. of airport
Cam View: Site 1: Numerous views of parking areas, taxiways, Runway 14/32 & Water Runway (Click here for key to road names & parking areas). – Site 2: NW across Lake Hood.
Cam Refresh Speed:: Site 1: 2-3 seconds automatic. – Site 2: Streaming.
* Site 2 NEW at June 25th 2017.