Monarch Airlines 'Repatriation' Aircraft.
Following the demise of Monarch Airlines on October 2nd 2017, the UK CAA have chartered around 30 aircraft to 'repatriate' holidaymakers back to the UK over the next couple of weeks.
Click on a registration on the right to view an aircraft's live activity on FlightRadar24.com
This list will be updated as often as possible. Please send any updates to us via Twitter.
Not all aircraft will operate solely Monarch repatriation flights all the time – many are charter airlines' fleets and so may be operating charters for other companies.
Note: Qatar Airways is using BA callsigns as they are not allowed to use QR callsigns on intra-European routes.
Sources: FlightRadar24.com & social media.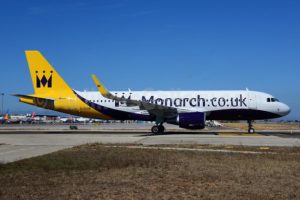 9H-JAI – Hi-Fly Malta Airbus A340
A7-ADB – Qatar Airways Airbus A320
A7-ADE – Qatar Airways Airbus A320
A7-LAA – Qatar Airways Airbus A320
A7-LAB – Qatar Airways Airbus A320
A7-LAC – Qatar Airways Airbus A320
A7-LAD – Qatar Airways Airbus A320
A7-LAE – Qatar Airways Airbus A320
A7-LAF – Qatar Airways Airbus A320
A7-LAG – Qatar Airways Airbus A320
A7-LAH – Qatar Airways Airbus A320
C-FDAT – Air Transat Airbus A310
C-GJDA – Air Transat Airbus A330
C-GTSZ – Air Transat Airbus A330
C-GUFR – Air Transat Airbus A330
CS-TQP – Hi-Fly Airbus A340
CS-TRH – Evelop Airbus A330
EC-KSM – Wamos Air Boeing 747
EC-LZO – Privelege Style Boeing 767
EC-MFA – Plus Ultra Airbus A340
EC-MNY – Wamos Air Airbus A330
EC-MRM – Wamos Air Boeing 747
EI-FSJ – Blue Panorama Boeing 737
G-EZTI – easyJet Airbus A320
G-POWC – Titan Airways Boeing 737
G-POWD – Titan Airways Boeing 767
G-POWH – Titan Airways Boeing 757
G-POWM – Titan Airways Airbus A320
G-ZAPX – Titan Airways Boeing 757
OK-TSP – Travel Service Boeing 737
OM-GTF – Travel Service Boeing 737
SX-SOF – Orange2Fly Airbus A320
TC-FBV – Freebird Airways Airbus A320
TC-FHB – Freebird Airways Airbus A320
TC-FHY – Freebird Airways Airbus A320
YL-LCP – SmartLynx Airbus A320