London Heathrow Airport Webcam
London Heathrow Airport, London, UK
IATA: LHR ~ ICAO: EGLL
UTC: 0 ~ TYPE: International
Flight Traffic:
Flight Data:
FlightStats ~ FlightAware ~ Airport Data
Airport Links:
Notes: Heathrow is the world's busiest international airport (ie. handling more non-domestic flights than any other). It is the third busiest airport in the world by passenger movements, after Atlanta and Beijing.
We've selected the best spotter videos & on-board videos from this airport.
See them on our London Heathrow Airport Videos Page. See all our Airport Videos Pages.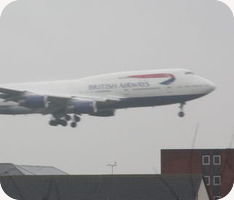 Webcam Viewing Options::
Cam Location: Off-Airport. Personal Residence.
Cam View: SE at Finals for Rwy 27L&R Arrivals. Rwy 09L&R Departures sometimes also viewable.
Cam Refresh Speed: Streaming.
Notes: £1 per month subscription required via PayPal.
© 2017 - Airport Webcams.net