August 6, 2015
Malmsheim Airfield (Flugplatz Malmsheim, Flugplatz Renningen-Malmsheim), NE of Malmsheim, Germany
IATA: n/a ~  ICAO: n/a
UTC: +1 ~  TYPE: Glider Field
Flight Traffic:
Flight Data: 
Airport Links: 
We've selected the best spotter videos & on-board videos from this airport.
See them on our Malmsheim Airport Videos Page. See all our Airport Videos Pages.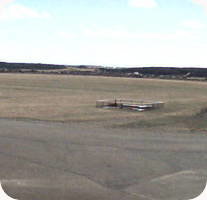 Webcam Viewing Options::
Cam Location: On-Airport. Building at NW of field, near Runway 08 hold.
Cam View: SW at apron, Runway 08/26 near 08 Hold.
Cam Refresh Speed: 60 seconds manual.
Notes: Still an active German/US military base. Home of the Sportfliegerclub Leonberg.