August 24, 2014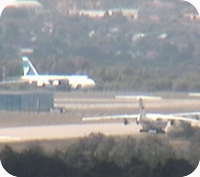 Webcam Viewing Options::
Cam Location: Off-Airport. Residence ENE of airport.
Cam View: W at Runways 08/26, 12/30.
Cam Refresh Speed: Streaming.
Webcam Notes: From the drop-down menu, select Aeroport. When cam freezes, click Live View at top right (cam stays live in Javacam and VLC). For control using the sliders, click Request Control at bottom right.
Airport Notes: Former Russian test facility and home to the MAKS Air Show. A passenger terminal opened in 2016, serving as relief to Sheremetyevo, Domodedovo and Vnukovo.