Palma De Mallorca Airport Webcam
Palma de Mallorca Airport (Aeroport de Palma de Mallorca, Aeropuerto de Palma de Mallorca), SE of Palma, Majorca, Balearic Is., Spain
IATA: PMI ~  ICAO: LEPA
UTC: +1 ~  TYPE: International
Flight Traffic:
Flight Data: 
FlightStats  ~  FlightAware ~ Airport Data
Airport Links: 
We've selected the best spotter videos & on-board videos from this airport.
See them on our Palma Airport Videos Page. See all our Airport Videos Pages.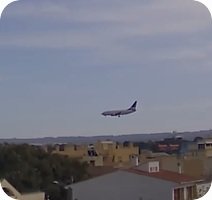 Webcam Viewing Options::
Cam Location: Off-Airport. Personal residence W. of airport.
Cam View: Arrivals onto Runways 06L&R (right to left of cam) and Departures from 24L&R.
Cam Refresh Speed: Streaming.
Notes: 3rd busiest airport in Spain (2015 figures).

© 2018 - Airport Webcams.net