April 10, 2014
Portmoak Airfield, Scotlandwell, Kinross, Scotland, UK
IATA: n/a ~  ICAO: n/a
UTC: 0 ~  TYPE: Glider Field
Flight Traffic:
Airport Links: 
We've selected the best spotter videos & on-board videos from this airport.
See them on our Portmoak Airport Videos Page. See all our Airport Videos Pages.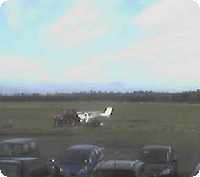 Webcam Viewing Options::
Cam Location: On-Airport. Clubhouse building.
Cam View: N at apron, Runways 10/28L&R.
Cam Refresh Speed:: 10 minutes automatic.
Notes: Home of the Scottish Gliding Union.