December 7, 2013
Prague Vaclav Havel Airport (Letiste Vaclava Havla Praha), Prague, Czech Republic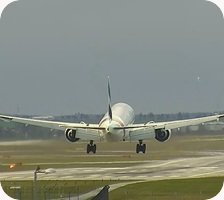 IATA: PRG ~  ICAO: LKPR
UTC: +1 ~  TYPE: International
Flight Traffic:
Flight Data: 
FlightStats  ~  FlightAware ~ Airport Data
Airport Links: 
We've selected the best spotter videos & on-board videos from this airport.
See them on our Prague Airport Videos Page. See all our Airport Videos Pages.
Webcam Viewing Options::
Cam Location: Off-airport. Building at N. of Runway 24 Hold.
Cam View: SW at Runway 06/24 & taxiways. Runway 13/31 crosses left to right.
Cam Refresh Speed: Streaming.
Notes: Click video to play. Wait 10 seconds for ad to play.
Cam Location: On-Airport. Terminal 1
Cam View: SW at Apron, airborne Departures on Rwy 13/31.
Cam Refresh Speed: 3 seconds.
Notes: Security delay of 15 minutes. See key for tips on viewing delayed-broadcast cameras.