June 24, 2014
Presidente Carlos Ibanez del Campo International Airport (aka Punta Arenas Airport; Aeropuerto Internacional Presidente Carlos Ibáñez), Punta Arenas, Chile
IATA: PUQ ~  ICAO: SCCI
UTC: -4 ~  TYPE: National, Military
Flight Traffic:
Flight Data: 
FlightStats  ~  FlightAware ~ Airport Data
Airport Links: 
We've selected the best spotter videos & on-board videos from this airport.
See them on our Punta Arenas Airport Videos Page. See all our Airport Videos Pages.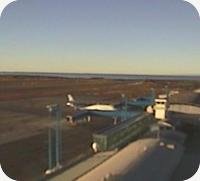 Webcam Viewing Options::
Cam Location: On-Airport. Airpot Terminal.
Cam View: 3 cams. E, W & S at apron, Runway 07/25, 12/30.
Cam Refresh Speed:: 10 minutes manual.
Notes: Shared with the Chile Air Force.