April 15, 2015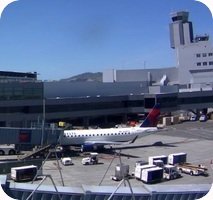 Webcam Viewing Options::
Cam Location: On-Airport. Airport buildings.
Cam View: Cam 1: E. at Eastern gates, Runways 01/19L&R (crossing cam) & Runways 13/31L&R (in distance). Cam 2: Gates at Domestic Bridge.
Cam Refresh Speed: Virtually streaming. Click 'Request New Picture' for latest image.
Notes: * Cams now appear to be offline. Email us if you find a replacement.