April 12, 2015
Sao Paulo – Congonhas Airport (Aeroporto de Sao Paulo/Congonhas), Sao Paulo, Brazil
IATA: CGH ~  ICAO: SBSP
UTC: -3 ~  TYPE: National
Flight Traffic:
Flight Data: 
FlightStats  ~  FlightAware ~ Airport Data
Airport Links: 
Notes: Airport is located in the Congonhas suburb of Sao Paulo, the world's 12th most populous city. Third-busiest airport in Brazil.
We've selected the best spotter videos & on-board videos from this airport.
See them on our Sao Paulo Congonhas Airport Videos Page. See all our Airport Videos Pages.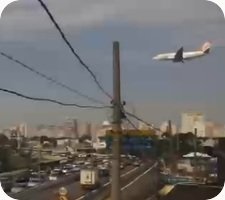 Webcam Viewing Options::
Cam Location: Off-Airport. City building.
Cam View: SW at Runway 17L&R Arrivals and 35L&R Departures. Aircraft taxiing onto 17R Hold can also be seen above the houses, as airport is elevated above the streets.
Cam Refresh Speed: Streaming.