June 28, 2014
Sardoal Heliport, Sardoal, Portugal
IATA: n/a ~  ICAO: n/a
UTC: 0   ~  TYPE: Heliport
Flight Traffic:

We've selected the best spotter videos & on-board videos from this airport.
See them on our Sardoal Airport Videos Page. See all our Airport Videos Pages.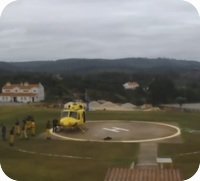 Webcam Viewing Options::
Cam Location: On-Airport. Medical centre.
Cam View: NE at helipad.
Cam Refresh Speed: Streaming.
Notes: Base for medical centre and forest fire water-bomber helicopters.