March 29, 2015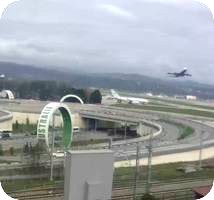 Webcam Viewing Options::
Cam Location: Off-Airport. Office building to W. of airport.
Cam View: E. at Runway 06/24 and aprons.
Cam Refresh Speed: Streaming.
Notes: Due to mountainous terrain to the E., most flights arrive on 06 and depart on 24.
The 8th busiest airport in Russia, Sochi is a popular holiday destination for many Russians.
If cam fails to start automatically, click 2nd logo from top menu, then click on 'r6' image.