Welcome to the Internet's most comprehensive database of airliners in special liveries! For the aviation enthusiast, some of the most-photographed and eagerly-awaited aircraft to visit an airport – and the most-anticipated to be seen on airport webcams – are those painted in non-standard schemes. Nearly 900 aircraft are currently flying in special liveries promoting products, sports team sponsorship, airline alliances, interesting destinations, special airline anniversaries & more.
Now, their current or next destinations are just a click away, with direct links to FlightRadar24.com's vast live tracking system, and their links to our database of over 1,800 airport webcams. Browse the database by clicking on a column header to sort by that column, or use the search box below right to filter by keyword, eg. 'Retro' or 'A330'.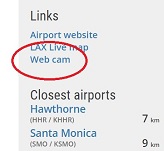 To track a flight and see it on an airport webcam, simply click an aircraft registration in the database below to view its live flight schedule on FlightRadar24.com. If it's on the ground or airborne click the airport's 3-letter code (eg.
LHR
) to view the airport data page.
Look for the 'Web cam' link on the left-hand side of the page – see example image on the right. This will click through to our webcam data page. FlightRadar24.com links to nearly 700 of our pages and new links are added on the same day we add new webcams at AirportWebcams.net.
---
Last Updated: 14-Feb-18. Type #new in the Search box at right to display the very latest additions.
| Country | Airline | Aircraft Type | Registration | Description |
| --- | --- | --- | --- | --- |
| Argentina | Aerolineas Argentinas | Airbus A340 | LV-FPV | SkyTeam |
| Argentina | Aerolineas Argentinas | Boeing 737-700 | LV-BZA | SkyTeam |
| Argentina | Andes Lineas Aereas | McDD MD-83 | LV-WGM | Travel Rock |
| Argentina | Austral Lineas Aereas | Embraer ERJ190 | LV-FPS | SkyTeam |
| Argentina | LATAM Argentina | Airbus A320 | LV-BFO | Oneworld |
| Australia | Jetstar Airways | Airbus A320 | VH-VGF | 10th Anniversary/#jetstargeneration |
| Australia | Jetstar Airways | Airbus A320 | VH-VQH | Aussie Scrabble |
| Australia | Jetstar Airways | Airbus A320 | VH-VFX | Kung-Fu Panda 3 |
| Australia | Jetstar Airways | Airbus A320 | VH-VFU | needabreak.com |
| Australia | Jetstar Airways | Airbus A320 | VH-VQG | Peanuts Movie |
| Australia | Jetstar Airways | Airbus A320 | VH-VFV | Sunglass Hut |
| Australia | Qantas | Boeing 737-800 | VH-XZJ | Mendoowoorrji |
| Australia | Qantas | Airbus A330 | VH-EBV | Oneworld |
| Australia | Qantas | Boeing 747-400 | VH-OEF | Oneworld |
| Australia | Qantas | Boeing 737-800 | VH-VXQ | QANTAS Retro |
| Australia | Qantas | Boeing 737-800 | VH-XZP | QANTAS Retro |
| Australia | Qantas | Airbus A330 | VH-QPJ | Rainbow Roo |
| Australia | Qantas | Boeing 747-400 | VH-OEJ | Spirit Of The Australian Team |
| Australia | QantasLink | Boeing 717 | VH-YQW | Discover Tasmania |
| Australia | QantasLink | DHC-8 Dash 8 | VH-QOH | National Breast Cancer Foundation |
| Australia | Tasman Cargo Airlines | Boeing 757-200F | VH-TCA | Flying Orangutan/Grand Tour |
| Austria | Austrian Airlines | Airbus A320 | OE-LBP | Austrian Retro |
| Austria | Austrian Airlines | Boeing 777-200ER | OE-LPD | my Sound Of Austria |
| Austria | Austrian Airlines | Airbus A321 | OE-LBA | myDreamteam |
| Austria | Austrian Airlines | Airbus A320 | OE-LBX | Star Alliance |
| Austria | Austrian Airlines | Airbus A320 | OE-LBZ | Star Alliance |
| Austria | Austrian Airlines | DHC-8 Dash 8 | OE-LGO | Star Alliance |
| Austria | Austrian Airlines | DHC-8 Dash 8 | OE-LGP | Star Alliance |
| Austria | Austrian Airlines | DHC-8 Dash 8 | OE-LGQ | Star Alliance |
| Austria | Austrian Airlines | DHC-8 Dash 8 | OE-LGR | Star Alliance |
| Austria | Austrian Airlines | Embraer ERJ190 | OE-LWH | Star Alliance |
| Austria | Eurowings Europe | Airbus A320 | OE-IQD | Eurowings Holidays/Pink Flamingo |
| Bahrain | Gulf Air | Airbus A320 | A9C-AD | Bahrain Airshow |
| Bahrain | Gulf Air | Airbus A330 | A9C-KB | Bahrain F1 Grand Prix |
| Belarus | Belavia | Boeing 737-300 | EW-254PA | World of Tanks |
| Belgium | Brussels Airlines | Airbus A320 | OO-SNA | Belgian Red Devils |
| Belgium | Brussels Airlines | Airbus A320 | OO-SNC | Rene Magritte |
| Belgium | Brussels Airlines | Airbus A319 | OO-SSC | Star Alliance |
| Belgium | Brussels Airlines | Airbus A320 | OO-SNB | Tintin |
| Belgium | Brussels Airlines | Airbus A320 | OO-SNF | Tomorrowland |
| Belgium | TUI Airlines Belgium | Boeing 737-800 | OO-JAF | Family Life Hotels |
| Brazil | Avianca Brasil | Airbus A319 | PR-AVB | Star Alliance |
| Brazil | Avianca Brasil | Airbus A320 | PR-AVR | Star Alliance |
| Brazil | Avianca Brasil | Airbus A320 | PR-OCQ | Star Alliance |
| Brazil | Avianca Brasil | Airbus A320 | PR-OCN | Turma Da Monica |
| Brazil | AZUL Lineas Aereas | Embraer ERJ190 | PH-AXS | 100,000,000 De Clientes! |
| Brazil | AZUL Lineas Aereas | Embraer ERJ190 | PH-AXH | 50 Cities |
| Brazil | AZUL Lineas Aereas | Embraer ERJ190 | PR-AYU | Ayrton Senna Sempre |
| Brazil | AZUL Lineas Aereas | Airbus A330 | PR-AIU | Azul Viagens |
| Brazil | AZUL Lineas Aereas | Embraer ERJ190 | PR-AYY | Azul Viagens |
| Brazil | AZUL Lineas Aereas | Airbus A330 | PR-AIV | Brazilian Flag |
| Brazil | AZUL Lineas Aereas | Embraer ERJ190 | PR-AYV | Brazilian Flag |
| Brazil | AZUL Lineas Aereas | Embraer ERJ190 | PR-AXB | Coke Cola Zero |
| Brazil | AZUL Lineas Aereas | Embraer ERJ190 | PR-AXA | Mentos |
| Brazil | AZUL Lineas Aereas | Embraer ERJ190 | PR-AYO | Pink Ribbon |
| Brazil | AZUL Lineas Aereas | Embraer ERJ190 | PR-AUQ | Sky |
| Brazil | AZUL Lineas Aereas | Airbus A330 | PR-AIT | Tudo Azul |
| Brazil | AZUL Lineas Aereas | Embraer ERJ190 | PR-AZL | Tudo Azul |
| Brazil | AZUL Lineas Aereas | Embraer ERJ190 | PH-AXR | wine.com.br |
| Brazil | GOL Transportes Aereos | Boeing 737-800 | PR-GUM | Brazil Football |
| Brazil | GOL Transportes Aereos | Boeing 737-800 | PR-GUO | Rock In Rio |
| Brazil | GOL Transportes Aereos | Boeing 737-800 | PR-GIT | Smiles |
| Brazil | GOL Transportes Aereos | Boeing 737-800 | PR-GUK | Voa canarinho |
| Brazil | LATAM Brazil | Airbus A319 | PR-MBW | LATAM Retro |
| Brazil | LATAM Brazil | Airbus A319 | PT-TME | LATAM Travel |
| Brazil | LATAM Brazil | Airbus A321 | PT-XPB | Oneworld |
| Brazil | LATAM Brazil | Boeing 767-300ER | PT-MOC | Oneworld |
| Brazil | LATAM Brazil | Airbus A319 | PT-TMD | Rio 450 Anos |
| Brazil | LATAM Brazil | Boeing 767-300ER | PT-MSZ | Walt Disney World |
| Brazil | Passaredo Transportes Aereos | ATR 72-600 | PR-PDI | Levity - Mineral Water |
| Brazil | Passaredo Transportes Aereos | ATR 72-500 | PP-PTP | Monsoy |
| Brunei | Royal Brunei Airlines | Airbus A320 | V8-RBX | His Majesty's 50th Golden Jubilee |
| Canada | Air Canada | Airbus A320 | C-FDRH | Star Alliance |
| Canada | Air Canada | Airbus A320 | C-FDRK | Star Alliance |
| Canada | Air Canada | Airbus A321 | C-GITU | Star Alliance |
| Canada | Air Canada | Airbus A330 | C-GHLM | Star Alliance |
| Canada | Air Canada | Airbus A319 | C-FZUH | Trans-Canada A/l Retro |
| Canada | Air Transat | Airbus A330 | C-GCTS | 30 Years |
| Canada | Air Transat | Airbus A330 | C-GKTS | 30 Years |
| Canada | Air Transat | Airbus A330 | C-GTSO | 30 Years |
| Canada | Canadian North | Boeing 737-300 | C-GCNO | Canadian Football League |
| Canada | Canadian North | Boeing 737-300 | C-GPNL | Celebrity Cruises |
| Canada | Jazz Air | Canadair CRJ200 | C-GQJA | Star Alliance |
| Canada | Porter Airlines | DHC-8 Dash 8 | C-GLQB | Celebrating Canada's 150th |
| Canada | Porter Airlines | DHC-8 Dash 8 | C-GLQC | Celebrating Canada's 150th |
| Canada | Sunwing Airlines | Boeing 737-800 | C-FPRP | Jameson Irish Whiskey |
| Canada | WestJet | Boeing 737-800 | C-GAWS | #100 Boeing 737 NG |
| Canada | WestJet | Boeing 737-800 | C-GWSV | Walt Disney World/Frozen |
| Canada | WestJet | Boeing 737-800 | C-GWSZ | Walt Disney World/Mickey Mouse |
| Chile | Aerovias DAP | Bae 146 | CC-CZP | Penguin |
| Chile | LATAM | Airbus A320 | CC-BAC | Oneworld |
| Chile | LATAM | Boeing 767-300ER | CC-CXJ | Oneworld |
| China | Air China | Boeing 777-300ER | B-2047 | 50 Years China/France Relations |
| China | Air China | Airbus A321 | B-6361 | Beautiful Sichuan |
| China | Air China | Airbus A321 | B-6365 | Beautiful Sichuan II |
| China | Air China | Boeing 737-800 | B-5390 | Gold Peony |
| China | Air China | Boeing 777-300ER | B-2006 | Love China |
| China | Air China | Boeing 737-800 | B-5422 | Phoenix |
| China | Air China | Boeing 737-700 | B-5211 | Pink Peony |
| China | Air China | Boeing 737-700 | B-5214 | Pink Peony |
| China | Air China | Boeing 737-800 | B-2642 | Pink Peony |
| China | Air China | Boeing 737-800 | B-5177 | Pink Peony |
| China | Air China | Airbus A320 | B-6610 | Plum Blossom/Splendid Hubei |
| China | Air China | Boeing 737-800 | B-5176 | Silver Peony |
| China | Air China | Boeing 737-800 | B-5178 | Silver Peony |
| China | Air China | Boeing 777-300ER | B-2035 | Smiling China |
| China | Air China | Airbus A330 | B-6091 | Star Alliance |
| China | Air China | Airbus A330 | B-6093 | Star Alliance |
| China | Air China | Boeing 777-300ER | B-2032 | Star Alliance |
| China | Air China | Boeing 737-800 | B-5198 | Yellow Peony |
| China | Air China | Airbus A330 | B-6076 | Zichen Hao/Capital Pavilion Liner |
| China | Air China | Airbus A330 | B-6075 | Zijin Hao/Forbidden Pavilion Liner |
| China | Air China Inner Mongolia | Boeing 737-700 | B-5226 | Tianjiao Inner Mongolia |
| China | Beijing Capital Airlines | Airbus A330 | B-8019 | Caissa Touristic |
| China | Beijing Capital Airlines | Airbus A330 | B-8221 | Caissa Touristic |
| China | Beijing Capital Airlines | Airbus A320 | B-6709 | Choiskycn |
| China | Beijing Capital Airlines | Airbus A319 | B-6180 | DuJiangYan |
| China | Beijing Capital Airlines | Airbus A320 | B-6727 | Haihang Culture |
| China | Beijing Capital Airlines | Airbus A320 | B-6859 | HNA Telecom |
| China | Beijing Capital Airlines | Airbus A319 | B-6245 | Manzhouli |
| China | Beijing Capital Airlines | Airbus A320 | B-6795 | Mask Family |
| China | Beijing Capital Airlines | Airbus A320 | B-6725 | Paul Frank |
| China | Beijing Capital Airlines | Airbus A320 | B-1621 | vip.com |
| China | China Eastern Airlines | Airbus A330 | B-6129 | 2011 Xi'an Horticultural Expo |
| China | China Eastern Airlines | Airbus A320 | B-6873 | Beautiful Gansu |
| China | China Eastern Airlines | Airbus A330 | B-5943 | eastday.com |
| China | China Eastern Airlines | Airbus A320 | B-1609 | Flying Apsaras/Beautiful Gansu |
| China | China Eastern Airlines | Airbus A320 | B-2209 | Flying Apsaras/Beautiful Gansu |
| China | China Eastern Airlines | Airbus A320 | B-6371 | Flying Apsaras/Beautiful Gansu |
| China | China Eastern Airlines | Airbus A330 | B-5902 | Greenland Group |
| China | China Eastern Airlines | Airbus A319 | B-6452 | Magnificent Qinghai |
| China | China Eastern Airlines | Airbus A319 | B-6458 | Magnificent Qinghai |
| China | China Eastern Airlines | Airbus A320 | B-9942 | Magnificent Qinghai |
| China | China Eastern Airlines | Airbus A320 | B-9943 | Magnificent Qinghai |
| China | China Eastern Airlines | Airbus A330 | B-6126 | People's Daily Online |
| China | China Eastern Airlines | Airbus A320 | B-6635 | Shanghai Disney Resort |
| China | China Eastern Airlines | Airbus A330 | B-6120 | Shanghai Disney Resort |
| China | China Eastern Airlines | Airbus A321 | B-1837 | SkyTeam |
| China | China Eastern Airlines | Airbus A321 | B-1838 | SkyTeam |
| China | China Eastern Airlines | Airbus A321 | B-8976 | SkyTeam |
| China | China Eastern Airlines | Airbus A321 | B-8977 | SkyTeam |
| China | China Eastern Airlines | Airbus A330 | B-5908 | SkyTeam |
| China | China Eastern Airlines | Airbus A330 | B-5949 | SkyTeam |
| China | China Eastern Airlines | Airbus A330 | B-6538 | SkyTeam |
| China | China Eastern Airlines | Boeing 737-800 | B-1981 | SkyTeam |
| China | China Eastern Airlines | Boeing 737-800 | B-5475 | Tujia/Enshi |
| China | China Eastern Airlines | Airbus A330 | B-6125 | Xinhua News |
| China | China Eastern Airlines | Boeing 737-700 | B-5243 | Yunnan Peacock |
| China | China Eastern Airlines | Boeing 737-700 | B-5276 | Yunnan Peacock |
| China | China Eastern Airlines | Boeing 737-700 | B-5293 | Yunnan Peacock |
| China | China Eastern Airlines | Boeing 737-700 | B-5802 | Yunnan Peacock |
| China | China Eastern Airlines | Boeing 737-700 | B-5807 | Yunnan Peacock |
| China | China Eastern Airlines | Boeing 737-700 | B-5809 | Yunnan Peacock |
| China | China Eastern Airlines | Boeing 737-700 | B-5817 | Yunnan Peacock |
| China | China Eastern Airlines | Boeing 737-700 | B-5819 | Yunnan Peacock |
| China | China Eastern Airlines | Boeing 737-700 | B-5821 | Yunnan Peacock |
| China | China Eastern Airlines | Boeing 737-700 | B-5822 | Yunnan Peacock |
| China | China Eastern Airlines | Boeing 737-700 | B-5828 | Yunnan Peacock |
| China | China Eastern Airlines | Boeing 737-700 | B-6141 | Yunnan Peacock |
| China | China Eastern Airlines | Boeing 737-800 | B-1788 | Yunnan Peacock |
| China | China Eastern Airlines | Boeing 737-800 | B-1789 | Yunnan Peacock |
| China | China Eastern Airlines | Boeing 737-800 | B-1790 | Yunnan Peacock |
| China | China Eastern Airlines | Boeing 737-800 | B-1791 | Yunnan Peacock |
| China | China Eastern Airlines | Boeing 737-800 | B-1792 | Yunnan Peacock |
| China | China Eastern Airlines | Boeing 737-800 | B-6143 | Yunnan Peacock |
| China | China Southern Airlines | Airbus A330 | B-6057 | 16th Asian Games Guangzhou 2010 |
| China | China Southern Airlines | Airbus A320 | B-6255 | Mitsubishi Outlander |
| China | China Southern Airlines | Airbus A320 | B-1696 | SkyTeam |
| China | China Southern Airlines | Airbus A320 | B-1697 | SkyTeam |
| China | China Southern Airlines | Airbus A321 | B-6398 | SkyTeam |
| China | China Southern Airlines | Airbus A321 | B-6553 | SkyTeam |
| China | China Southern Airlines | Airbus A321 | B-6578 | SkyTeam |
| China | China Southern Airlines | Airbus A330 | B-6528 | SkyTeam |
| China | China Southern Airlines | Airbus A330 | B-5928 | SkyTeam |
| China | China Southern Airlines | Airbus A330 | B-5970 | SkyTeam |
| China | China Southern Airlines | Boeing 737-800 | B-2693 | SkyTeam |
| China | China Southern Airlines | Boeing 737-800 | B-5469 | SkyTeam |
| China | China Southern Airlines | Boeing 737-800 | B-5640 | SkyTeam |
| China | China Southern Airlines | Boeing 777-300ER | B-2049 | SkyTeam |
| China | China United Airlines | Boeing 737-800 | B-5448 | Anshun Huangguoshu Waterfalls |
| China | China United Airlines | Boeing 737-800 | B-5665 | Baotou Dream Build |
| China | China United Airlines | Boeing 737-800 | B-5470 | City Of Rizhao |
| China | China West Air | Airbus A320 | B-9982 | Happy Valley |
| China | China West Air | Airbus A320 | B-1897 | U-Fly alliance |
| China | Chongqing Airlines | Airbus A320 | B-6761 | Beautiful In Chongqing |
| China | Chongqing Airlines | Airbus A320 | B-8987 | Chongqing Times |
| China | Chongqing Airlines | Airbus A320 | B-6576 | Happy Chongqing |
| China | GX Airlines | Airbus A320 | B-8511 | Green City Nanning |
| China | GX Airlines | Airbus A320 | B-8655 | Transformers 5 |
| China | Hainan Airlines | Boeing 737-800 | B-5835 | Chang'An Bank |
| China | Hainan Airlines | Boeing 737-800 | B-6066 | Finding Soul |
| China | Hainan Airlines | Boeing 787-9 | B-1540 | Kung-Fu Panda |
| China | Hainan Airlines | Boeing 787-9 | B-6998 | Kung-Fu Panda (Red) |
| China | Hainan Airlines | Boeing 787-9 | B-7302 | Kung-Fu Panda (Yellow) |
| China | Hainan Airlines | Boeing 737-800 | B-5467 | Little Door Gods |
| China | Hainan Airlines | Boeing 737-800 | B-5429 | Super Girl 2016 |
| China | Juneyao Airlines | Airbus A320 | B-6717 | 10 Years Anniversary |
| China | Juneyao Airlines | Airbus A321 | B-1808 | All Red |
| China | Kunming Airlines | Boeing 737-800 | B-1507 | Dian Lake |
| China | Kunming Airlines | Boeing 737-800 | B-1991 | Honghe Nativeland |
| China | Kunming Airlines | Boeing 737-700 | B-1461 | Tengchong |
| China | Loong Air | Airbus A320 | B-8593 | Picturesque Zhejiang |
| China | Lucky Air | Boeing 737-700 | B-5268 | Oriental Sea |
| China | Lucky Air | Airbus A320 | B-6943 | U-Fly alliance |
| China | Shandong Airlines | Boeing 737-800 | B-5352 | 11th National Games Shandong 2009 |
| China | Shandong Airlines | Boeing 737-800 | B-5590 | 3rd Asian Beach Games |
| China | Shandong Airlines | Boeing 737-800 | B-5786 | China Arts Festival |
| China | Shandong Airlines | Boeing 737-800 | B-1931 | DEEJ |
| China | Shandong Airlines | Boeing 737-800 | B-1932 | DEEj |
| China | Shandong Airlines | Boeing 737-800 | B-1982 | DEEJ |
| China | Shandong Airlines | Boeing 737-800 | B-1983 | DEEJ |
| China | Shandong Airlines | Boeing 737-800 | B-1987 | DEEJ |
| China | Shandong Airlines | Boeing 737-800 | B-5787 | Expo 2014 |
| China | Shandong Airlines | Boeing 737-800 | B-5351 | Friendly Shandong |
| China | Shandong Airlines | Boeing 737-800 | B-5856 | Horticultural Exposition 2014 Qingdao |
| China | Shandong Airlines | Boeing 737-800 | B-7977 | Hospitable Shandong/Jingzhi Wine |
| China | Shandong Airlines | Boeing 737-800 | B-5451 | Jinan: City Of Springs, China |
| China | Shandong Airlines | Boeing 737-800 | B-5119 | qq.com |
| China | Shanghai Airlines | Boeing 737-800 | B-5132 | Ji An |
| China | Shenzhen Airlines | Airbus A320 | B-6296 | Star Alliance |
| China | Shenzhen Airlines | Airbus A320 | B-6297 | Star Alliance |
| China | Shenzhen Airlines | Airbus A320 | B-6749 | Summer Universiade Shenzhen |
| China | Shenzhen Airlines | Airbus A320 | B-6750 | Summer Universiade Shenzhen |
| China | Shenzhen Airlines | Boeing 737-800 | B-5606 | Summer Universiade Shenzhen |
| China | Shenzhen Airlines | Boeing 737-700 | B-2669 | Xishuangbanna |
| China | Sichuan Airlines | Airbus A321 | B-1663 | 100th Aircraft |
| China | Sichuan Airlines | Airbus A320 | B-6388 | Chinese Dragon |
| China | Sichuan Airlines | Airbus A320 | B-6719 | Yunnan |
| China | Tianjin Airlines | Airbus A320 | B-9963 | 5th East Asian Games |
| China | Tianjin Airlines | Airbus A320 | B-6865 | 9th University Game of PRC |
| China | Tianjin Airlines | Embraer ERJ190 | B-3150 | Erke: Always With You |
| China | Tianjin Airlines | Airbus A320 | B-9983 | Haitao travel |
| China | Tianjin Airlines | Airbus A321 | B-8389 | National Games Of China: Tianjin 2017 |
| China | Tianjin Airlines | Airbus A320 | B-1031 | Quan Yang Quan |
| China | Tianjin Airlines | Airbus A320 | B-6837 | Xyuan |
| China | Tianjin Airlines | Airbus A320 | B-6789 | Yujiapu |
| China | Urumqi Air | Boeing 737-800 | B-1568 | U-FLY Alliance |
| China | Xiamen Airlines | Boeing 737-800 | B-5688 | 100th Boeing |
| China | Xiamen Airlines | Boeing 737-800 | B-5159 | SkyTeam |
| China | Xiamen Airlines | Boeing 737-800 | B-5302 | SkyTeam |
| China | Xiamen Airlines | Boeing 737-800 | B-5633 | SkyTeam |
| China/Hong Kong | Cathay Dragon | Airbus A330 | B-HYB | Spirit Of Hong Kong |
| China/Hong Kong | Cathay Pacific | Airbus A330 | B-LBB | 1000th Airbus A330 |
| China/Hong Kong | Cathay Pacific | Boeing 747-8F | B-LJA | Hong Kong Trader |
| China/Hong Kong | Cathay Pacific | Airbus A330 | B-HLU | Oneworld |
| China/Hong Kong | Cathay Pacific | Boeing 777-300ER | B-KPL | Oneworld |
| China/Hong Kong | Cathay Pacific | Boeing 777-300 | B-HNK | Spirit Of Hong Kong |
| China/Hong Kong | Cathay Pacific | Boeing 777-300ER | B-KPB | Spirit Of Hong Kong |
| China/Hong Kong | Hong Kong Express | Airbus A320 | B-LCB | Sanuki Udon & Ritsurin Garden |
| China/Macau | Air Macau | Airbus A321 | B-MBM | Macau Welcomes You |
| Colombia | Avianca | Airbus A319 | N519AV | Star Alliance |
| Colombia | Avianca | Airbus A320 | N195AV | Star Alliance |
| Colombia | Avianca | Airbus A320 | N454AV | Star Alliance |
| Colombia | Avianca | Airbus A320 | N477AV | Star Alliance |
| Colombia | Avianca | Airbus A320 | N536AV | Star Alliance |
| Colombia | Avianca | Airbus A320 | N688TA | Star Alliance |
| Colombia | Avianca | Airbus A330 | N280AV | Star Alliance |
| Colombia | Avianca | Airbus A330 | N342AV | Star Alliance |
| Colombia | Copa Airlines Colombia | Embraer ERJ190 | HK-4456 | connectmiles.com |
| Croatia | Croatia Airlines | Airbus A319 | 9A-CTI | Star Alliance |
| Czech Republic | CSA Czech Airlines | Airbus A319 | OK-NEP | City Of Prague |
| Czech Republic | CSA Czech Airlines | Airbus A319 | OK-OER | SkyTeam |
| Czech Republic | CSA Czech Airlines | Airbus A319 | OK-PET | SkyTeam |
| Czech Republic | CSA Czech Airlines | ATR 72-500 | OK-GFR | SkyTeam |
| Czech Republic | Travel Service | Boeing 737-800 | OK-TVO | Moravian-Silesian Region |
| Denmark | Atlantic Airways | Airbus A319 | OY-RCG | Faroe Islands |
| Denmark | Danish Air Transport | ATR 72-200 | OY-RUR | Primo Tour |
| Denmark | Danish Air Transport | McDD MD-83 | OY-RUE | World Cup |
| Ecuador | Avianca Ecuador | Airbus A320 | HC-CJW | Star Alliance |
| Ecuador | LATAM Ecuador | Airbus A319 | HC-CPJ | Oneworld |
| Egypt | EgyptAir | Airbus A330 | SU-GCK | Star Alliance |
| Egypt | EgyptAir | Boeing 737-800 | SU-GCS | Star Alliance |
| Egypt | Nile Air | Airbus A320 | SU-BQM | Egypt |
| Ethiopia | Ethiopian Airlines | Boeing 767-300ER | ET-ALO | Star Alliance |
| Finland | Finnair | Airbus A350-900 | OH-LWD | Happy Holidays (Reindeer) |
| Finland | Finnair | Airbus A321 | OH-LZL | Happy Holidays (Reindeer) |
| Finland | Finnair | Airbus A350-900 | OH-LWL | Marimekko Kivet |
| Finland | Finnair | Airbus A330 | OH-LTO | Marimekko Unikko |
| Finland | Finnair | Airbus A319 | OH-LVD | Oneworld |
| Finland | Finnair | Airbus A350-900 | OH-LWB | Oneworld |
| Finland | Finnair | Embraer ERJ190 | OH-LKN | Oneworld |
| France | Air France | Boeing 777-300ER | F-GSQI | JonOne |
| France | Air France | Airbus A320 | F-GKXS | SkyTeam |
| France | Air France | Airbus A320 | F-HEPI | SkyTeam |
| France | Air France | Airbus A321 | F-GTAE | SkyTeam |
| France | Air France | Boeing 777-300ER | F-GZNE | SkyTeam |
| France | Air France | Boeing 777-300ER | F-GZNN | SkyTeam |
| France | Air France | Boeing 777-300ER | F-GZNT | SkyTeam |
| France | Regional | Embraer ERJ170 | F-HBXC | 500th E-Jet |
| France | Transavia France | Boeing 737-800 | F-GZHO | Cheerz #mypiconaplane |
| Germany | Condor | Boeing 767-300ER | D-ABUM | 1980s Retro |
| Germany | Condor | Boeing 757-300 | D-ABON | 50th Anniversary |
| Germany | Condor | Airbus A320 | D-AICA | Condor Retro |
| Germany | Eurowings | Airbus A330 | D-AXGA | Autentica Cuba |
| Germany | Eurowings | Airbus A320 | D-AEWM | Boomerang Club |
| Germany | Eurowings | Airbus A320 | D-AIZR | Borussia Dortmund |
| Germany | Eurowings | Airbus A320 | D-ABDP | Croatia: Full Of Life |
| Germany | Eurowings | Airbus A320 | D-ABDQ | Europa Park |
| Germany | Eurowings | Airbus A320 | D-AEWG | Visit Sweden/Goteborg |
| Germany | Germania | Boeing 737-700 | D-AGER | 30th Anniversary |
| Germany | Lufthansa | Airbus A321 | D-AIRY | Die Maus |
| Germany | Lufthansa | Boeing 747-8 | D-ABYI | Fanhansa Siegerflieger |
| Germany | Lufthansa | Airbus A340 | D-AIHZ | FC Bayern Munchen |
| Germany | Lufthansa | Airbus A319 | D-AILU | Lu |
| Germany | Lufthansa | Airbus A321 | D-AIDV | Lufthansa Retro |
| Germany | Lufthansa | Boeing 747-8 | D-ABYT | Lufthansa Retro |
| Germany | Lufthansa | Airbus A319 | D-AILF | Star Alliance |
| Germany | Lufthansa | Airbus A320 | D-AIPC | Star Alliance |
| Germany | Lufthansa | Airbus A320 | D-AIPD | Star Alliance |
| Germany | Lufthansa | Airbus A321 | D-AIRW | Star Alliance |
| Germany | Lufthansa | Airbus A340 | D-AIFA | Star Alliance |
| Germany | Lufthansa | Airbus A340 | D-AIFE | Star Alliance |
| Germany | Lufthansa | Airbus A340 | D-AIFF | Star Alliance |
| Germany | Lufthansa | Airbus A340 | D-AIGN | Star Alliance |
| Germany | Lufthansa | Airbus A340 | D-AIGP | Star Alliance |
| Germany | Lufthansa | Airbus A340 | D-AIGV | Star Alliance |
| Germany | Lufthansa | Airbus A340 | D-AIGW | Star Alliance |
| Germany | Lufthansa | Airbus A340 | D-AIGX | Star Alliance |
| Germany | Lufthansa | Airbus A340 | D-AIGY | Star Alliance |
| Germany | Lufthansa Cargo | McDD MD-11F | D-ALCH | Cargo Human Care |
| Germany | Lufthansa Cityline | Canadair CRJ900 | D-ACKD | 25 Years |
| Germany | SunExpress Germany | Boeing 737-800 | D-ASXB | Die Schlumpfe / The Smurfs |
| Germany | SunExpress Germany | Boeing 737-800 | D-ASXP | El Gouna Shuttle |
| Germany | SunExpress Germany | Boeing 737-800 | D-ASXO | Istanbul |
| Germany | TUIfly | Boeing 737-800 | D-AHFZ | Cewe Fotobuch |
| Germany | TUIfly | Boeing 737-800 | D-ATUH | Cewe Fotobuch |
| Germany | TUIfly | Boeing 737-800 | D-AHLK | Hapag-Lloyd Retro |
| Germany | TUIfly | Boeing 737-800 | D-ATUF | Hapag-Lloyd Retro |
| Germany | TUIfly | Boeing 737-800 | D-ATUJ | Haribo Tropifrutti |
| Germany | TUIfly | Boeing 737-800 | D-ATUZ | RIU Hotels & Resorts |
| Germany | TUIfly | Boeing 737-800 | D-ATUI | Robinson Club Resorts |
| Germany | TUIfly | Boeing 737-800 | D-ATUD | TUI Blue |
| Germany | TUIfly | Boeing 737-800 | D-ATUG | TUI Magic Life Hotel |
| Greece | Aegean Airlines | Airbus A320 | SX-DVU | Acropolis Museum |
| Greece | Aegean Airlines | Airbus A320 | SX-DVQ | Star Alliance |
| Greece | Aegean Airlines | Airbus A320 | SX-DGI | visitgreece.gr |
| Iceland | Icelandair | Boeing 757-200 | TF-FIU | Aurora/Northern Lights |
| Iceland | Icelandair | Boeing 757-200 | TF-FIR | Vatnajokull/80 Years |
| India | Air India | Airbus A320 | VT-ESF | Star Alliance |
| India | Air India | Boeing 777-300ER | VT-ALJ | Star Alliance |
| India | Air India | Boeing 787-8 | VT-ANU | Star Alliance |
| India | AirAsia India | Airbus A320 | VT-APJ | Kabali Movie |
| India | AirAsia India | Airbus A320 | VT-JRT | The Pioneer: A Tribute To JRD Tata |
| India | SpiceJet | Boeing 737-800 | VT-SLL | Tata Hexa |
| India | SpiceJet | Boeing 737-800 | VT-SLJ | Telangana Tourism |
| Indonesia | Citilink | Airbus A320neo | PK-GTF | 50th A320 |
| Indonesia | Garuda Indonesia | Boeing 737-800 | PK-GFM | Garuda Retro |
| Indonesia | Garuda Indonesia | Boeing 737-800 | PK-GFN | Garuda Retro |
| Indonesia | Garuda Indonesia | Airbus A330 | PK-GPF | SkyTeam |
| Indonesia | Garuda Indonesia | Boeing 737-800 | PK-GMH | SkyTeam |
| Indonesia | Garuda Indonesia | Boeing 777-300ER | PK-GII | SkyTeam |
| Indonesia | Garuda Indonesia | Canadair CRJ1000 | PK-GRA | SkyTeam |
| Indonesia | Indonesia AirAsia | Airbus A320 | PK-AXY | Interpol: Turn Back Crime |
| Indonesia | Indonesia AirAsia | Airbus A320 | PK-AZA | TAGG |
| Indonesia | Indonesia AirAsia | Airbus A320 | PK-AXV | Wonderful Indonesia |
| Indonesia | Indonesia AirAsia | Airbus A320 | PK-AXS | Wow |
| Indonesia | Lion Air | Boeing 737-900 | PK-LOF | 100th Boeing Next Generation 737 |
| Indonesia | Lion Air | Boeing 737-900 | PK-LHY | 50th 737-900ER |
| Indonesia | Lion Air | Boeing 737-900 | PK-LJO | 60th 737-900ER |
| Indonesia | Lion Air | Boeing 737-900 | PK-LJZ | 70th Boeing Next Generation 737 |
| Indonesia | Lion Air | Boeing 737-800 | PK-LKP | 80th Boeing Next Generation 737 |
| Indonesia | Lion Air | Boeing 737-800 | PK-LKV | 90th Boeing Next Generation 737 |
| Indonesia | Lion Air | Boeing 737-900 | PK-LFF | Dreamliner |
| Indonesia | Lion Air | Boeing 737-900 | PK-LFG | Dreamliner |
| Indonesia | Lion Air | Boeing 737-800 | PK-LPK | lionparcel.com |
| Indonesia | Lion Air | Boeing 737-800 | PK-LPL | lionparcel.com |
| Indonesia | Lion Air | Boeing 737-800 | PK-LPM | lionparcel.com |
| Indonesia | TransNusa Aviation | Bae 146 | PK-TNV | Victory News |
| Indonesia | TransNusa Aviation | Bae 146 | PK-BRF | Warkop DKI Reborn II Movie |
| Indonesia | Wings Air | ATR 72-600 | PK-WHG | 50th ATR |
| Indonesia | Wings Air | ATR 72-600 | PK-WHS | 60th ATR |
| Indonesia | Wings Air | ATR 72-600 | PK-WHV | 70th ATR |
| Iran | Meraj Airlines | Airbus A320 | EP-AJI | Asiatic Cheetah |
| Iran | Meraj Airlines | Airbus A300B4 | EP-SIG | United To Conserve/Asiatic Cheetah |
| Iran | Qeshm Airlines | Airbus A300B4 | EP-FQM | Perspolis |
| Iran | Zagros Air | Airbus A320 | EP-ZAT | Kish Dolphin Park |
| Ireland | Aer Lingus | Airbus A320 | EI-DVM | Aer Lingus Retro |
| Ireland | Aer Lingus | Airbus A320 | EI-DEI | Irish Rugby Team |
| Ireland | Aer Lingus | Airbus A320 | EI-DEO | Irish Rugby Team |
| Ireland | Cityjet | Bae RJ85 | EI-RJX | Leinster Rugby |
| Ireland | Ryanair | Boeing 737-800 | EI-DCL | Dreamliner (Revised) |
| Italy | Air Dolomiti | Embraer ERJ190 | I-ADJS | 25th Anniversary |
| Italy | Alitalia | Airbus A320 | EI-DTJ | Employee Signatures |
| Italy | Alitalia | Airbus A320 | EI-DSW | Jeep Renegade |
| Italy | Alitalia | Airbus A330 | EI-DIR | SkyTeam |
| Italy | Alitalia | Boeing 777-200ER | EI-DDH | SkyTeam |
| Italy | Alitalia Cityliner | Embraer ERJ190 | EI-RND | SkyTeam |
| Japan | Air Do/Hokkaido Airlines | Boeing 767-300 | JA602A | Beardo Hokkaido Jet |
| Japan | All Nippon Airways | Boeing 737-800 | JA51AN | Star Alliance |
| Japan | All Nippon Airways | Boeing 767-300ER | JA614A | Star Alliance |
| Japan | All Nippon Airways | Boeing 777-200 | JA711A | Star Alliance |
| Japan | All Nippon Airways | Boeing 777-200 | JA712A | Star Alliance |
| Japan | All Nippon Airways | Boeing 777-300ER | JA731A | Star Alliance |
| Japan | All Nippon Airways | Boeing 777-300ER | JA789A | Star Wars: BB-8 |
| Japan | All Nippon Airways | Boeing 777-200ER | JA743A | Star Wars: C-3PO |
| Japan | All Nippon Airways | Boeing 767-300ER | JA604A | Star Wars: R2-D2/BB-8 |
| Japan | All Nippon Airways | Boeing 787-9 | JA873A | Star Wars: R2-D2 |
| Japan | All Nippon Airways | Boeing 737-800 | JA85AN | Tohoku Flower Jet |
| Japan | ANA Wings | DHC-8 Dash 8 | JA856A | Eco Friendly Airline |
| Japan | ANA Wings | DHC-8 Dash 8 | JA857A | Eco Friendly Airline |
| Japan | J-Air | Embraer ERJ190 | JA248J | Universal Studios Japan/JAL Minion Jet |
| Japan | Japan Airlines | Boeing 777-300ER | JA743J | 2020 Tokyo Olympics |
| Japan | Japan Airlines | Boeing 777-300ER | JA733J | Jet-Kei |
| Japan | Japan Airlines | Boeing 767-300 | JA8980 | Oneworld |
| Japan | Japan Airlines | Boeing 777-200ER | JA708J | Oneworld |
| Japan | Japan Airlines | Boeing 777-200 | JA771J | Oneworld |
| Japan | Japan Airlines | Boeing 777-300ER | JA732J | Oneworld |
| Japan | Japan Airlines | Boeing 777-300 | JA752J | Oneworld |
| Japan | Japan Airlines | Boeing 777-300ER | JA731J | PGA Tour Champions |
| Japan | Japan Airlines | Boeing 767-300ER | JA656J | Visit Kyushu |
| Japan | Japan Transocean Air | Boeing 737-400 | JA8939 | Jinbei Jet |
| Japan | Japan Transocean Air | Boeing 737-800 | JA05RK | Jinbei Jet |
| Japan | Japan Transocean Air | Boeing 737-400 | JA8992 | Sakura Jimbei |
| Japan | Japan Transocean Air | Boeing 737-400 | JA8999 | South West Air Lines Retro |
| Japan | Skymark Airlines | Boeing 737-800 | JA73NT | Shimomachi Bobsled Jet |
| Japan | Skymark Airlines | Boeing 737-800 | JA73NJ | SoftBank Hawks |
| Japan | Skymark Airlines | Boeing 737-800 | JA73NG | Star Blazers 2202 |
| Japan | Solaseed Air | Boeing 737-800 | JA802X | City Of Oita |
| Jordan | Royal Jordanian | Airbus A319 | JY-AYP | Oneworld |
| Kenya | Kenya Airways | Boeing 737-700 | 5Y-KQH | SkyTeam |
| Kenya | Kenya Airways | Boeing 737-800 | 5Y-CYE | SkyTeam |
| Kenya | Kenya Airways | Embraer ERJ190 | 5Y-FFB | SkyTeam |
| Latvia | Air Baltic | Boeing 737-500 | YL-BBN | Sochi |
| Lebanon | MEA Middle East Airlines | Airbus A320 | T7-MRD | SkyTeam |
| Luxembourg | Cargolux | Boeing 747-8F | LX-VCM | Cutaway |
| Luxembourg | Luxair | DHC-8 Dash 8 | LX-LGN | Luxembourg: Connecting You With Capital Markets |
| Malaysia | AirAsia | Airbus A320 | 9M-AFP | 1 Malaysia |
| Malaysia | AirAsia | Airbus A320 | 9M-AQH | 100th Awesome Plane |
| Malaysia | AirAsia | Airbus A320 | 9M-AJA | 8 Time Worlds Best Low cost Airline |
| Malaysia | AirAsia | Airbus A320neo | 9M-NEO | A320neo |
| Malaysia | AirAsia | Airbus A320 | 9M-AQI | AirAsia Foundation |
| Malaysia | AirAsia | Airbus A320 | 9M-AFW | AirAsia Mobile App |
| Malaysia | AirAsia | Airbus A320 | 9M-AFD | Allstar |
| Malaysia | AirAsia | Airbus A320 | 9M-AFE | ASEAN Basketball League |
| Malaysia | AirAsia | Airbus A320 | 9M-AHY | BIG Duty Free |
| Malaysia | AirAsia | Airbus A320 | 9M-AQC | BIG Duty Free |
| Malaysia | AirAsia | Airbus A320 | 9M-AHG | CellMaxx |
| Malaysia | AirAsia | Airbus A320 | 9M-AHJ | Charter Prime |
| Malaysia | AirAsia | Airbus A320 | 9M-AHX | Connecting ASEAN |
| Malaysia | AirAsia | Airbus A320 | 9M-AQB | General Electric |
| Malaysia | AirAsia | Airbus A320 | 9M-AFT | Greenland Group |
| Malaysia | AirAsia | Airbus A320 | 9M-AHE | Honghe Nativeland |
| Malaysia | AirAsia | Airbus A320 | 9M-AHL | Honghe Nativeland |
| Malaysia | AirAsia | Airbus A320 | 9M-AHR | LINE |
| Malaysia | AirAsia | Airbus A320 | 9M-AFV | Queens Park Rangers FC |
| Malaysia | AirAsia | Airbus A320 | 9M-AHT | Thank you Sabah |
| Malaysia | AirAsia | Airbus A320 | 9M-AHD | Tune Insure |
| Malaysia | AirAsia | Airbus A320 | 9M-AQD | Universiti Putra Malaysia |
| Malaysia | AirAsia | Airbus A320 | 9M-AFC | Worlds Best Low Cost Airline |
| Malaysia | AirAsia X | Airbus A330 | 9M-XXF | 10 Xciting Years |
| Malaysia | AirAsia X | Airbus A330 | 9M-XXA | AirAsia X Turns 9 |
| Malaysia | AirAsia X | Airbus A330 | 9M-XXH | Anaz Ahmad Tajuddin |
| Malaysia | AirAsia X | Airbus A330 | 9M-XXU | X-Men: Apocalype |
| Malaysia | AirAsia X | Airbus A330 | 9M-XXT | Xcintillating Phoenix |
| Malaysia | Firefly | ATR 72-600 | 9M-FIE | Discover Kedah |
| Malaysia | Firefly | ATR 72-500 | 9M-FYD | Discover Selangor |
| Malaysia | Firefly | ATR 72-500 | 9M-FYE | Discover Selangor |
| Malaysia | Firefly | ATR 72-600 | 9M-FIC | Firefly Travel Protection |
| Malaysia | Firefly | ATR 72-500 | 9M-FYH | Kedah Football Association |
| Malaysia | Firefly | ATR 72-500 | 9M-FYB | Negaraku: Celebrating Community Spirit |
| Malaysia | Firefly | ATR 72-500 | 9M-FYG | Panasonic Air Conditioners |
| Malaysia | Malaysia Airlines | Airbus A380 | 9M-MNF | 100th A380 |
| Malaysia | Malaysia Airlines | Boeing 737-800 | 9M-MXS | Malaysia Negaraku |
| Malaysia | Malaysia Airlines | Boeing 737-800 | 9M-MXA | MAS Retro |
| Malaysia | Malaysia Airlines | Airbus A330 | 9M-MTE | Oneworld |
| Malaysia | Malaysia Airlines | Airbus A330 | 9M-MTO | Oneworld |
| Malaysia | Malaysia Airlines | Boeing 737-800 | 9M-MXC | Oneworld |
| Malaysia | Malindo Air | Boeing 737-800 | 9M-LCK | Lion Group 178th Aircraft |
| Malaysia | MASWings | ATR 72-500 | 9M-MWC | Negaraku |
| Malta | Air Malta | Airbus A320 | 9H-AEI | Air Malta Retro |
| Malta | Air Malta | Airbus A320 | 9H-AEO | Valletta: European Capital Of Culture 2018 |
| Mauritius | Air Mauritius | Airbus A350-900 | 3B-NBP | 50 Years |
| Mauritius | Air Mauritius | Airbus A350-900 | 3B-NBQ | 50 Years |
| Mexico | Aeromexico | Boeing 737-800 | XA-MIA | Chrysler Jeep 75 Years |
| Mexico | Aeromexico | Boeing 777-200ER | N774AM | Ciudad De Mexico |
| Mexico | Aeromexico | Boeing 737-700 | XA-VAM | El Universal |
| Mexico | Aeromexico | Boeing 737-800 | EI-DRA | Galaxy S7 |
| Mexico | Aeromexico | Boeing 787-9 | XA-ADL | Quetzalcoatl |
| Mexico | Aeromexico | Boeing 737-800 | XA-JOY | The Peanuts Movie |
| Mexico | Aeromexico Connect | Embraer ERJ190 | XA-GAW | 1100th Ejet |
| Mexico | Aeromexico Connect | Embraer ERJ170 | XA-ACV | SkyTeam |
| Mexico | Aeromexico Connect | Embraer ERJ140 | XA-CLI | SkyTeam |
| Mexico | Volaris | Airbus A320 | XA-VOY | Hard Rock Hotel |
| Morocco | Royal Air Maroc | Boeing 737-800 | CN-RGV | 60 Years |
| Morocco | Royal Air Maroc | Boeing 737-800 | CN-RGF | Wings Of African Art |
| Morocco | Royal Air Maroc | Boeing 737-800 | CN-RGG | Wings Of African Art |
| Morocco | Royal Air Maroc | Boeing 737-800 | CN-RGH | Wings Of African Art |
| Multinational | Avianca Central America | Airbus A319 | N522TA | Star Alliance |
| Multinational | Avianca Central America | Airbus A319 | N524TA | Star Alliance |
| Multinational | Avianca Central America | Airbus A320 | N686TA | Star Alliance |
| Multinational | Avianca Central America | Airbus A320 | N689TA | Star Alliance |
| Multinational | SAS | Boeing 737-800 | LN-RGI | Celebrating 70 Years |
| Multinational | SAS | Boeing 737-800 | LN-RCY | Eurobonus |
| Multinational | SAS | Airbus A319 | OY-KBO | SAS Retro |
| Multinational | SAS | Airbus A340 | OY-KBM | Star Alliance |
| Multinational | SAS | Boeing 737-800 | LN-RRL | Star Alliance |
| Multinational | SAS | Boeing 737-800 | LN-RRW | Star Alliance |
| Netherlands | Corendon Dutch Airlines | Boeing 737-800 | PH-CDF | VriendenLoterij |
| Netherlands | KLM | Boeing 777-300ER | PH-BVA | #OrangePride |
| Netherlands | KLM | Boeing 737-900 | PH-BXO | SkyTeam |
| Netherlands | KLM | Boeing 777-300ER | PH-BVD | SkyTeam |
| Netherlands | KLM Cityhopper | Embraer ERJ190 | PH-EZX | SkyTeam |
| Netherlands | Transavia | Boeing 737-800 | PH-HSI | Peter Pan Vakantieclub |
| Netherlands | Transavia | Boeing 737-800 | PH-HSF | SunWeb |
| New Zealand | Air New Zealand | Airbus A320 | ZK-OAB | All Blacks |
| New Zealand | Air New Zealand | Boeing 787-9 | ZK-NZE | All Blacks |
| New Zealand | Air New Zealand | Airbus A320 | ZK-OJH | Star Alliance |
| New Zealand | Eagle Airways | Beech 1900 | ZK-EAG | All Blacks |
| New Zealand | Eagle Airways | Beech 1900 | ZK-EAK | All Blacks |
| Norway | Norwegian Air Shuttle | Boeing 737-800 | LN-DYU | Wireless Internet On Board |
| Pakistan | PIA Pakistan Airlines | Airbus A320 | AP-BLA | PIA Retro |
| Pakistan | PIA Pakistan Airlines | Airbus A320 | AP-BLT | PIA Retro |
| Pakistan | PIA Pakistan Airlines | Airbus A320 | AP-BLU | PIA Retro |
| Pakistan | PIA Pakistan Airlines | Boeing 777-200ER | AP-BMG | PIA Retro |
| Panama | Copa Airlines | Boeing 737-800 | HP-1852CMP | 100th Aircraft |
| Panama | Copa Airlines | Boeing 737-800 | HP-1711CMP | 70 Years |
| Panama | Copa Airlines | Boeing 737-800 | HP-1825CMP | Biomuseo |
| Panama | Copa Airlines | Boeing 737-800 | HP-1849CMP | connectmiles.com |
| Panama | Copa Airlines | Embraer ERJ190 | HP-1564CMP | connectmiles.com |
| Panama | Copa Airlines | Boeing 737-800 | HP-1533CMP | Major League Baseball |
| Panama | Copa Airlines | Boeing 737-800 | HP-1534CMP | Panama National football Team |
| Panama | Copa Airlines | Boeing 737-800 | HP-1829CMP | SPFC #CopaEtricolor |
| Panama | Copa Airlines | Boeing 737-800 | HP-1831CMP | SPFC #CopaEtricolor |
| Panama | Copa Airlines | Boeing 737-800 | HP-1839CMP | SPFC #CopaEtricolor |
| Panama | Copa Airlines | Boeing 737-800 | HP-1728CMP | Star Alliance |
| Panama | Copa Airlines | Boeing 737-800 | HP-1823CMP | Star Alliance |
| Panama | Copa Airlines | Boeing 737-800 | HP-1830CMP | Star Alliance |
| Papua New Guinea | Air Niugini | Boeing 737-700 | P2-PXD | Kokoda Trail |
| Peru | Avianca Peru | Airbus A330 | N279AV | Star Alliance |
| Philippines | CEBU Pacific | Airbus A320 | RP-C3249 | Hennan Resorts |
| Philippines | Philippines AirAsia | Airbus A320 | RP-C8972 | Hennan Resorts |
| Philippines | Philippines AirAsia | Airbus A320 | RP-C8974 | I <3 ASEAN |
| Philippines | Philippines AirAsia | Airbus A320 | RP-C8975 | Puregold |
| Philippines | Philippines AirAsia | Airbus A320 | RP-C8978 | Puregold |
| Poland | LOT | Embraer ERJ170 | SP-LII | 600th E-Jet |
| Poland | LOT | Boeing 787-8 | SP-LRH | Proud To Fly The Polish Olympic Team |
| Poland | LOT | DHC-8 Dash 8 | SP-EQB | Ptasie Mleczko |
| Poland | LOT | DHC-8 Dash 8 | SP-EQD | Ptasie Mleczko |
| Poland | LOT | DHC-8 Dash 8 | SP-EQF | Ptasie Mleczko |
| Poland | LOT | Embraer ERJ170 | SP-LDF | Ptasie Mleczko |
| Poland | LOT | Embraer ERJ170 | SP-LDK | Star Alliance |
| Poland | LOT | DHC-8 Dash 8 | SP-EQI | Tel Aviv |
| Poland | Poland Government | Boeing 737-800 | 110 | 100 Years Of Regaining Independence of Poland |
| Portugal | Azores Airlines | Airbus A330 | CS-TRY | Sperm Whale |
| Portugal | Hi-Fly | Airbus A330 | CS-TQW | Mirpuri Foundation |
| Portugal | TAP Air Portugal | Airbus A330 | CS-TOW | Portugal Stopover |
| Portugal | TAP Air Portugal | Airbus A320 | CS-TNP | Star Alliance |
| Portugal | TAP Air Portugal | Airbus A330 | CS-TOH | Star Alliance |
| Portugal | TAP Air Portugal | Airbus A330 | CS-TOV | TAP Retro |
| Qatar | Qatar Airways | Airbus A320 | A7-AHL | Oneworld |
| Qatar | Qatar Airways | Airbus A320 | A7-AHO | Oneworld |
| Qatar | Qatar Airways | Boeing 777-300ER | A7-BAA | Oneworld |
| Qatar | Qatar Airways | Boeing 777-300ER | A7-BAB | Oneworld |
| Qatar | Qatar Airways | Boeing 777-300ER | A7-BAF | Oneworld |
| Qatar | Qatar Airways | Boeing 777-300ER | A7-BAG | Oneworld |
| Romania | Blue Air | Boeing 737-800 | YR-BMH | City Of Liverpool |
| Romania | TAROM | ATR 42-500 | YR-ATC | SkyTeam |
| Romania | TAROM | Boeing 737-700 | YR-BGF | SkyTeam |
| Romania | TAROM | Boeing 737-700 | YR-BGG | SkyTeam |
| Russia | Aeroflot | Airbus A320 | VP-BWD | CSKA Moscow |
| Russia | Aeroflot | Airbus A320 | VP-BNT | Dobrolet Retro |
| Russia | Aeroflot | Airbus A321 | VP-BTL | Manchester United FC |
| Russia | Aeroflot | Airbus A320 | VP-BWE | PBC CSKA Moscow |
| Russia | Aeroflot | Airbus A320 | VP-BDK | SkyTeam |
| Russia | Aeroflot | Airbus A330 | VQ-BCQ | SkyTeam |
| Russia | Aeroflot | Boeing 737-800 | VP-BMB | SkyTeam |
| Russia | Aeroflot | Sukhoi Superjet 100 | RA-89015 | SkyTeam |
| Russia | Aeroflot | Boeing 777-300ER | VQ-BQG | SkyTeam |
| Russia | AirBridgeCargo | Boeing 747-8F | VQ-BGZ | 25 Years |
| Russia | Azur Air | Boeing 737-800 | VP-BIR | ANEX Tour |
| Russia | Azur Air | Boeing 767-300ER | VP-BXW | ANEX Tour |
| Russia | Azur Air | Boeing 757-200 | VP-BLV | Land Of Legends |
| Russia | Ikar | Boeing 767-300ER | VP-BOZ | Pegas |
| Russia | NordStar Airlines | Boeing 737-800 | VQ-BDN | Winter Universiade Krasnoyarsk 2019 |
| Russia | NordStar Airlines | Boeing 737-800 | VQ-BNG | Winter Universiade Krasnoyarsk 2019 |
| Russia | NordStar Airlines | Boeing 737-800 | VQ-BQT | Winter Universiade Krasnoyarsk 2019 |
| Russia | Rossiya | Boeing 747-400 | EI-XLD | Caring For Tigers Together |
| Russia | Rossiya | Boeing 777-300 | EI-UNP | Far Eastern Leopard |
| Russia | Rossiya | Airbus A319 | VQ-BAS | FC Zenit St Petersburg |
| Russia | Rusline | Canadair CRJ100 | VP-BVK | Hotels.com |
| Russia | S7 Siberia Airlines | Airbus A319 | VP-BTN | Oneworld |
| Russia | S7 Siberia Airlines | Boeing 737-800 | VQ-BKW | Oneworld |
| Russia | UVT Aero | Canadair CRJ200 | VQ-BOJ | Hockey Club Neftyanik Almetyevsk |
| Saudia Arabia | Saudi Arabian Airlines | Boeing 777-300ER | HZ-AK28 | Saudi Arabia Famous Landmarks |
| Saudia Arabia | Saudi Arabian Airlines | Airbus A330 | HZ-AQE | Saudi National Day |
| Saudia Arabia | Saudi Arabian Airlines | Airbus A320 | HZ-ASF | SkyTeam |
| Saudia Arabia | Saudi Arabian Airlines | Airbus A330 | HZ-AQL | SkyTeam |
| Saudia Arabia | Saudi Arabian Airlines | Boeing 777-200ER | HZ-AKA | SkyTeam |
| Singapore | Jetstar Asia | Airbus A320 | 9V-JSH | SG50 (Singapore 50 Years) |
| Singapore | Singapore Airlines | Airbus A350-900 | 9V-SMF | 10000th Airbus Aircraft |
| Singapore | Singapore Airlines | Boeing 777-300ER | 9V-SWI | Star Alliance |
| Singapore | Singapore Airlines | Boeing 777-300ER | 9V-SWJ | Star Alliance |
| Singapore | Singapore Airlines | Boeing 777-300 | 9V-SYL | Star Alliance |
| Slovenia | Adria Airways | Canadair CRJ900 | S5-AAV | Star Alliance |
| South Africa | FlySafAir | Boeing 737-400 | ZS-OAG | First Car Rental |
| South Africa | FlySafAir | Boeing 737-400 | ZS-JRK | Springboks |
| South Africa | Kulula | Boeing 737-800 | ZS-ZWQ | Discover Vitality |
| South Africa | Kulula | Boeing 737-800 | ZS-ZWT | Europcar |
| South Africa | Kulula | Boeing 737-400 | ZS-OAP | Flying 102 |
| South Africa | Kulula | Boeing 737-800 | ZS-ZWO | This Way Up |
| South Africa | South African Airways | Airbus A340 | ZS-SXD | Siyanqoba/Team South Africa 2012 |
| South Africa | South African Airways | Airbus A340 | ZS-SNC | Star Alliance |
| South Africa | South African Airways | Boeing 737-800 | ZS-SJV | Star Alliance |
| South Africa | South African Express | Canadair CRJ200 | ZS-MNM | Durban-Harare |
| South Korea | Asiana Airlines | Airbus A321 | HL8071 | Star Alliance |
| South Korea | Asiana Airlines | Boeing 767-300 | HL7516 | Star Alliance |
| South Korea | Jeju Air | Boeing 737-800 | HL8234 | Refresh |
| South Korea | Jeju Air | Boeing 737-800 | HL8263 | Refresh |
| South Korea | Jin Air | Boeing 737-800 | HL7556 | Green Wings |
| South Korea | Korean Air | Boeing 777-300ER | HL8275 | Children's Drawing Contest |
| South Korea | Korean Air | Boeing 777-300ER | HL8250 | Children's Drawing Contest |
| South Korea | Korean Air | Airbus A330 | HL8227 | Let Everyone Shine/Pyeongchang 2018 (Winter Olympics) |
| South Korea | Korean Air | Airbus A330 | HL8212 | SkyTeam |
| South Korea | Korean Air | Boeing 737-800 | HL7560 | SkyTeam |
| South Korea | Korean Air | Boeing 737-800 | HL7568 | SkyTeam |
| South Korea | Korean Air | Boeing 777-300ER | HL7783 | SkyTeam |
| Spain | Air Europa | Airbus A330 | EC-LQP | SkyTeam |
| Spain | Air Europa | Boeing 737-800 | EC-LPQ | SkyTeam |
| Spain | Air Europa Express | Embraer ERJ190 | EC-LKX | Visit Salvador |
| Spain | Evelop Airlines | Airbus A330 | EC-MII | Graffiti |
| Spain | Iberia | Airbus A330 | EC-MKI | 70 Anos En Iberoamerica |
| Spain | Iberia | Airbus A320 | EC-JZM | Disneyland Paris |
| Spain | Iberia | Airbus A330 | EC-MJA | El Corte Ingles |
| Spain | Iberia | Airbus A330 | EC-MIL | Madrid: The Heart Of Spain |
| Spain | Iberia Express | Airbus A320 | EC-LYE | Pull & Bear House |
| Spain | Vueling | Airbus A320 | EC-MLE | Disneyland Paris - 25 Years |
| Spain | Vueling | Airbus A320 | EC-MOG | Liebana Cantabria |
| Spain | Vueling | Airbus A320 | EC-MEQ | Pepsi Max |
| Spain | Vueling | Airbus A320 | EC-MNZ | Vueling Loves Barcelona |
| Sri Lanka | SriLankan Airlines | Airbus A320 | 4R-ABO | Oneworld |
| Sri Lanka | SriLankan Airlines | Airbus A330 | 4R-ALH | Oneworld |
| Switzerland | SWISS | Airbus A320 | HB-IJM | Star Alliance |
| Switzerland | SWISS | Airbus A320 | HB-IJN | Star Alliance |
| Switzerland | SWISS | Airbus A320 | HB-IJO | Star Alliance |
| Switzerland | SWISS | Bombardier CSeries CS300 | HB-JCA | Swiss Romandy/Fichtre |
| Switzerland | Zimex Aviation | ATR 72-200F | HB-ALM | BDA Logistics |
| Switzerland | Zimex Aviation | ATR 72-200F | HB-ALQ | BDA Logistics |
| Taiwan | China Airlines | Boeing 777-300ER | B-18007 | Boeing |
| Taiwan | China Airlines | Boeing 737-800 | B-18657 | Buddy Bears |
| Taiwan | China Airlines | Airbus A330 | B-18361 | Cloud Gate Dance Theatre |
| Taiwan | China Airlines | Airbus A330 | B-18358 | Masalu Taiwan |
| Taiwan | China Airlines | Airbus A350-900 | B-18901 | Mikado Pheasant |
| Taiwan | China Airlines | Airbus A330 | B-18311 | SkyTeam |
| Taiwan | China Airlines | Boeing 747-400 | B-18211 | SkyTeam |
| Taiwan | China Airlines | Airbus A350-900 | B-18908 | Taiwan Blue Magpie |
| Taiwan | EVA Air | Airbus A330 | B-16331 | Bad Badtz-Maru |
| Taiwan | EVA Air | Airbus A321 | B-16205 | Gudetama |
| Taiwan | EVA Air | Airbus A321 | B-16207 | Hello Kitty |
| Taiwan | EVA Air | Airbus A330 | B-16333 | Hello Kitty Sanrio Characters |
| Taiwan | EVA Air | Boeing 777-300ER | B-16722 | Hello Kitty Shining Star |
| Taiwan | EVA Air | Boeing 777-300ER | B-16703 | Sanrio Family |
| Taiwan | EVA Air | Airbus A330 | B-16332 | Sanrio Joyful Dream |
| Taiwan | EVA Air | Airbus A321 | B-16206 | Star Alliance |
| Taiwan | EVA Air | Boeing 777-300ER | B-16715 | Star Alliance |
| Taiwan | Far Eastern Air Transport | McDD MD-82 | B-28035 | Twin Heart Stone Weir |
| Taiwan | Mandarin Airlines | Embraer ERJ190 | B-16829 | Sun Moon Lake |
| Taiwan | Mandarin Airlines | Boeing 737-800 | B-18659 | Taichung |
| Taiwan | UNI Airways | ATR 72-600 | B-17001 | Bad Badtz Maru |
| Thailand | Bangkok Airways | ATR 72-500 | HS-PGF | BDMS Emergency Services |
| Thailand | Bangkok Airways | Airbus A320 | HS-PPD | Flying Bags |
| Thailand | Bangkok Airways | Airbus A320 | HS-PPE | Mascot |
| Thailand | Bangkok Airways | Airbus A320 | HS-PPH | United For Wildlife |
| Thailand | Nok Air | Boeing 737-800 | HS-DBQ | 10th Anniversary |
| Thailand | Thai AirAsia | Airbus A320 | HS-ABC | Amazing Thailand |
| Thailand | Thai AirAsia | Airbus A320 | HS-ABD | Amazing Thailand |
| Thailand | Thai AirAsia | Airbus A320 | HS-ABJ | Carabao Concert |
| Thailand | Thai AirAsia | Airbus A320 | HS-ABT | King Power |
| Thailand | Thai AirAsia | Airbus A320 | HS-ABX | kingpower.com |
| Thailand | Thai AirAsia | Airbus A320 | HS-ABV | Leicester City FC |
| Thailand | Thai AirAsia | Airbus A320 | HS-ABG | Thailand Post |
| Thailand | Thai AirAsia | Airbus A320 | HS-ABE | Truly ASEAN |
| Thailand | Thai AirAsia | Airbus A320 | HS-ABW | Worlds Best Low Cost Airlines |
| Thailand | Thai Airways International | Boeing 747-400 | HS-TGW | Star Alliance |
| Thailand | Thai Smile | Airbus A320 | HS-TXQ | Adventure Time |
| Thailand | ThaiVietjetAir | Airbus A320 | HS-VKA | Air Hostesses |
| Turkey | Anadolu Jet | Boeing 737-800 | TC-JGF | Besiktas |
| Turkey | AtlasGlobal | Airbus A321 | TC-ETN | Bank O' Atlas Credit Card |
| Turkey | Corendon Airlines | Boeing 737-800 | TC-TJJ | detur |
| Turkey | Pegasus | Boeing 737-800 | TC-CPN | Ada E. |
| Turkey | SunExpress | Boeing 737-800 | TC-SOH | Despicable Me 3 / Minions |
| Turkey | SunExpress | Boeing 737-800 | TC-SNN | Playstation |
| Turkey | Turkish Airlines | Airbus A321 | TC-JRO | EuroLeague |
| Turkey | Turkish Airlines | Airbus A330 | TC-JIZ | Invest In Turkey |
| Turkey | Turkish Airlines | Airbus A320 | TC-JPF | Star Alliance |
| Turkey | Turkish Airlines | Airbus A320 | TC-JPP | Star Alliance |
| Turkey | Turkish Airlines | Airbus A320 | TC-JPS | Star Alliance |
| Turkey | Turkish Airlines | Airbus A321 | TC-JRA | Star Alliance |
| Turkey | Turkish Airlines | Airbus A321 | TC-JRB | Star Alliance |
| Turkey | Turkish Airlines | Airbus A321 | TC-JRL | Star Alliance |
| Turkey | Turkish Airlines | Airbus A330 | TC-LNB | Star Alliance |
| Turkey | Turkish Airlines | Boeing 737-800 | TC-JHC | Star Alliance |
| Turkey | Turkish Airlines | Boeing 737-800 | TC-JHE | Star Alliance |
| Turkey | Turkish Airlines | Airbus A321 | TC-JRG | Turkey: Discover The Potential |
| Turkey | Turkish Airlines | Airbus A330 | TC-JNC | Turkish Airlines Retro |
| UAE | Emirates | Boeing 777-300ER | A6-EPK | Dubai Expo2020 (Mobility) |
| UAE | Emirates | Boeing 777-300ER | A6-EPU | Dubai Expo2020 (Sustainability) |
| UAE | Emirates | Boeing 777-300ER | A6-EPM | S L Benfica |
| UAE | Emirates | Airbus A380 | A6-EEI | United For Wildlife |
| UAE | Emirates | Airbus A380 | A6-EEQ | United For Wildlife |
| UAE | Emirates | Airbus A380 | A6-EER | United For Wildlife |
| UAE | Emirates | Airbus A380 | A6-EOM | United For Wildlife |
| UAE | Emirates | Airbus A380 | A6-EUV | Year Of Zayed 2018 |
| UAE | Emirates | Airbus A380 | A6-EUZ | Year Of Zayed 2018 |
| UAE | Emirates | Boeing 777-300ER | A6-EPP | Year Of Zayed 2018 |
| UAE | Etihad Airways | Airbus A340 | A6-EHJ | Abu Dhabi Grand Prix |
| UAE | Etihad Airways | Airbus A330 | A6-EYE | Manchester City F C |
| UAE | Etihad Airways | Airbus A330 | A6-AFA | Visit Abu Dhabi |
| UK | BA CityFlyer | Embraer ERJ190 | G-LCYN | 700th E-Jet |
| UK | British Airways | Boeing 777-200ER | G-YMML | Great Festival Of Creativity |
| UK | British Airways | Airbus A319 | G-EUPH | Olympic Dove |
| UK | British Airways | Boeing 747-400 | G-CIVC | Oneworld |
| UK | British Airways | Boeing 747-400 | G-CIVD | Oneworld |
| UK | British Airways | Boeing 747-400 | G-CIVI | Oneworld |
| UK | British Airways | Boeing 747-400 | G-CIVK | Oneworld |
| UK | British Airways | Boeing 747-400 | G-CIVL | Oneworld |
| UK | British Airways | Boeing 747-400 | G-CIVM | Oneworld |
| UK | British Airways | Boeing 747-400 | G-CIVP | Oneworld |
| UK | British Airways | Boeing 747-400 | G-CIVZ | Oneworld |
| UK | DHL Air | Boeing 757-200F | G-DHKK | 'The Grand Tour' (James May - Hair Force One) |
| UK | Eastern Airways | Embraer ERJ145 | G-CGWV | Union Jack |
| UK | easyJet | Airbus A320 | G-EZOX | 20 Years |
| UK | easyJet | Airbus A319 | G-EZDN | Amsterdam |
| UK | easyJet | Airbus A320 | OE-IVA | Austria |
| UK | easyJet | Airbus A319 | G-EZDL | Europcar |
| Austria | easyJet Europe | Airbus A319 | OE-LQY | Europcar (#New at 8-Feb-18) |
| UK | easyJet | Airbus A320 | G-EZPC | Europcar |
| UK | easyJet | Airbus A320 | G-EZPD | Europcar |
| UK | easyJet | Airbus A319 | G-EZIW | Fiumicino Per Tutti |
| UK | easyJet | Airbus A319 | G-EZEZ | Love Napoli |
| UK | easyJet | Airbus A320 | G-EZUG | Moscow |
| UK | easyJet | Airbus A320neo | G-UZHA | neo |
| UK | easyJet | Airbus A320neo | G-UZHB | neo |
| UK | easyJet | Airbus A319 | G-EZBF | Tartan |
| UK | easyJet | Airbus A319 | G-EJAR | UNICEF |
| UK | easyJet | Airbus A319 | G-EZIO | UNICEF |
| Austria | easyJet Europe | Airbus A319 | OE-LKF | Venezia (#New at 8-Feb-18) |
| UK | easyJet | Airbus A319 | G-EZBI | William Shakespeare |
| UK | European Aviation | Boeing 737-500 | 2-PGSI | Formula 1 Experiences |
| UK | Flybe | Embraer ERJ190 | G-FBEM | Cancer Research UK - Kids & Teens |
| UK | Flybe | DHC-8 Dash 8 | G-PRPG | Valentines Hearts |
| UK | Flybe | Embraer ERJ190 | G-FBEJ | Welcome To Yorkshire |
| UK | Norwegian Air UK | Boeing 787-9 | G-CKLZ | UNICEF |
| UK | Thomas Cook Airlines | Airbus A321 | G-TCDA | Egypt, Where It All Begins |
| UK | TUI Airways | Boeing 737-800 | G-FDZG | Family Life Hotels |
| USA | Alaska Airlines | Boeing 737-900 | N248AK | Boeing 100 Years Strong |
| USA | Alaska Airlines | Boeing 737-800 | N512AS | Boeing House Colors |
| USA | Alaska Airlines | Boeing 737-900 | N265AK | Honoring Those Who Serve |
| USA | Alaska Airlines | Boeing 737-900 | N493AS | More To Love |
| USA | Alaska Airlines | Boeing 737-700 | N607AS | Portland Timbers |
| USA | Alaska Airlines | Boeing 737-800 | N559AS | Salmon-Thirty-Salmon II |
| USA | Alaska Airlines | Boeing 737-800 | N560AS | Spirit Of The Islands |
| USA | Alaska Airlines | Boeing 737-800 | N570AS | The Adventure Of Disneyland Resort |
| USA | Alaska Airlines | Boeing 737-900 | N318AS | The Spirit Of Disneyland II |
| USA | Allegiant Air | Airbus A320 | N218NV | Make-A-Wish Foundation |
| USA | Allegiant Air | Airbus A320 | N228NV | Visit Florida |
| USA | American Airlines | Boeing 737-800 | N917NN | AirCal Heritage Retro |
| USA | American Airlines | Airbus A319 | N745VJ | Allegheny Heritage Retro |
| USA | American Airlines | Airbus A319 | N838AW | America West Heritage Retro |
| USA | American Airlines | Boeing 737-800 | N905NN | AstroJet Retro |
| USA | American Airlines | Boeing 767-300ER | N343AN | Oneworld |
| USA | American Airlines | Boeing 737-800 | N837NN | Oneworld |
| USA | American Airlines | Boeing 737-800 | N838NN | Oneworld |
| USA | American Airlines | Boeing 737-800 | N919NN | Oneworld |
| USA | American Airlines | Boeing 777-200ER | N791AN | Oneworld |
| USA | American Airlines | Boeing 777-200ER | N796AN | Oneworld |
| USA | American Airlines | Airbus A319 | N744P | Piedmont Heritage Retro |
| USA | American Airlines | Airbus A319 | N742PS | PSA Heritage Retro |
| USA | American Airlines | Boeing 737-800 | N916NN | Reno Air Heritage Retro |
| USA | American Airlines | Boeing 737-800 | N915NN | TWA Heritage Retro |
| USA | American Airlines | Airbus A321 | N578UW | US Airways Heritage Retro |
| USA | American Eagle | Embraer ERJ145 | N909AE | Pink Ribbon |
| USA | American Eagle | Embraer ERJ145 | N905JH | Susan G Komen/Pink Ribbon |
| USA | Atlas Air | Boeing 747-8F | N850GT | PanAlpina |
| USA | Delta Airlines | Boeing 767-400ER | N845MH | Breast Cancer Research Foundation |
| USA | Delta Airlines | Boeing 737-800 | N3755D | SkyTeam |
| USA | Delta Airlines | Boeing 737-800 | N3758Y | SkyTeam |
| USA | Delta Airlines | Boeing 737-800 | N3761R | SkyTeam |
| USA | Delta Airlines | Boeing 737-800 | N3765 | SkyTeam |
| USA | Delta Airlines | Boeing 737-800 | N381DN | SkyTeam |
| USA | Delta Airlines | Boeing 757-200 | N659DL | SkyTeam |
| USA | Delta Airlines | Boeing 757-200 | N705TW | SkyTeam |
| USA | Delta Airlines | Boeing 757-200 | N717TW | SkyTeam |
| USA | Delta Airlines | Boeing 757-200 | N722TW | SkyTeam |
| USA | Delta Airlines | Boeing 767-300ER | N175DZ | SkyTeam |
| USA | Delta Airlines | Boeing 767-400ER | N844MH | SkyTeam |
| USA | Havana Air | Boeing 737-800 | N277EA | USA/Cuba Graffiti |
| USA | Horizon Air | DHC-8 Dash 8 | N437QX | Boise State Broncos |
| USA | Horizon Air | DHC-8 Dash 8 | N452QX | Employee Powered |
| USA | Horizon Air | DHC-8 Dash 8 | N403QX | Montana State University Bobcats |
| USA | Horizon Air | DHC-8 Dash 8 | N440QX | Oregon State University Beavers |
| USA | Horizon Air | DHC-8 Dash 8 | N414QX | San Diego State University |
| USA | Horizon Air | DHC-8 Dash 8 | N443QX | University Of Alaska Anchorage |
| USA | Horizon Air | DHC-8 Dash 8 | N441QX | University Of Alaska Fairbanks |
| USA | Horizon Air | DHC-8 Dash 8 | N400QX | University Of Idaho Vandals |
| USA | Horizon Air | DHC-8 Dash 8 | N402QX | University Of Montana Grizzlies |
| USA | Horizon Air | DHC-8 Dash 8 | N407QX | University Of Oregon Ducks |
| USA | Horizon Air | DHC-8 Dash 8 | N435QX | Washington Huskies |
| USA | Horizon Air | DHC-8 Dash 8 | N401QX | Washington State University Cougars |
| USA | JetBlue Airways | Airbus A320 | N569JB | 10th Anniversary |
| USA | JetBlue Airways | Embraer ERJ190 | N304JB | Blueprint |
| USA | JetBlue Airways | Airbus A320 | N605JB | Boston Red Sox |
| USA | JetBlue Airways | Airbus A320 | N709JB | Fly-Fi |
| USA | JetBlue Airways | Airbus A320 | N586JB | I Love NYC |
| USA | JetBlue Airways | Airbus A320 | N598JB | Inspiring Humanity |
| USA | JetBlue Airways | Airbus A320 | N615JB | New York City Fire Dept. |
| USA | JetBlue Airways | Airbus A320 | N531JL | New York City Police Dept. |
| USA | JetBlue Airways | Airbus A320 | N763JB | New York International: Vintage |
| USA | JetBlue Airways | Airbus A320 | N746JB | New York Jets |
| USA | JetBlue Airways | Airbus A320 | N779JB | ontimeflights.org |
| USA | JetBlue Airways | Airbus A320 | N775JB | Vets In Blue |
| USA | Piedmont Airlines | DHC-8 Dash 8 | N837EX | Piedmont Retro |
| USA | Ravn Alaska | DHC-8 Dash 8 | N887EA | Seawolves |
| USA | Southwest Airlines | Boeing 737-700 | N281WN | 500th Southwest 737 |
| USA | Southwest Airlines | Boeing 737-700 | N909WN | Beats Music |
| USA | Southwest Airlines | Boeing 737-700 | N943WN | California One |
| USA | Southwest Airlines | Boeing 737-700 | N711HK | Classic Retro |
| USA | Southwest Airlines | Boeing 737-700 | N714CB | Classic Retro |
| USA | Southwest Airlines | Boeing 737-700 | N7816B | Coco Movie |
| USA | Southwest Airlines | Boeing 737-700 | N230WN | Colorado One |
| USA | Southwest Airlines | Boeing 737-700 | N945WN | Florida One |
| USA | Southwest Airlines | Boeing 737-700 | N918WN | Illinois One |
| USA | Southwest Airlines | Boeing 737-700 | N905WN | Kidd's Kids |
| USA | Southwest Airlines | Boeing 737-700 | N931WN | Lone Star One |
| USA | Southwest Airlines | Boeing 737-700 | N214WN | Maryland One |
| USA | Southwest Airlines | Boeing 737-700 | N280WN | Missouri One |
| USA | Southwest Airlines | Boeing 737-700 | N727SW | Nevada One |
| USA | Southwest Airlines | Boeing 737-700 | N781WN | New Mexico One |
| USA | Southwest Airlines | Boeing 737-700 | N944WN | Shark Week |
| USA | Southwest Airlines | Boeing 737-700 | N922WN | Tennessee One |
| USA | Southwest Airlines | Boeing 737-700 | N409WN | Triple Crown One |
| USA | United Airlines | Airbus A320 | N475UA | 85th Anniversary Retro |
| USA | United Airlines | Boeing 737-900 | N75435 | Continental Airlines Retro |
| USA | United Airlines | Boeing 737-900 | N75432 | Eco Skies |
| USA | United Airlines | Boeing 737-700 | N13720 | Star Alliance |
| USA | United Airlines | Boeing 737-800 | N26210 | Star Alliance |
| USA | United Airlines | Boeing 737-800 | N76516 | Star Alliance |
| USA | United Airlines | Boeing 757-200 | N14120 | Star Alliance |
| USA | United Airlines | Boeing 767-300ER | N653UA | Star Alliance |
| USA | United Airlines | Boeing 767-400ER | N76055 | Star Alliance |
| USA | United Airlines | Boeing 777-200ER | N218UA | Star Alliance |
| USA | United Airlines | Boeing 777-200ER | N76021 | Star Alliance |
| USA | United Airlines | Boeing 777-200ER | N77022 | Star Alliance |
| USA | United Airlines | Boeing 777-200ER | N78017 | Star Alliance |
| USA | United Airlines | Boeing 777-200ER | N794UA | Star Alliance |
| USA | UPS Airlines | Boeing 747-8F | N605UP | Spirit Of Joe Sutter |
| Venezuela | Transcarga International | Airbus A300B4 | YV562T | Transcarga Retro |
| Venezuela | Venezolana | Boeing 737-200 | YV502T | Lake Maracaibo Bridge |
| Vietnam | Jetstar Pacific | Airbus A320 | VN-A561 | Kung Fu Panda 3 |
| Vietnam | Jetstar Pacific | Airbus A320 | VN-A567 | Tea Plus |
| Vietnam | VietJetAir | Airbus A320 | VN-A690 | Panasonic Air Conditioners |
| Vietnam | Vietnam Airlines | Airbus A321 | VN-A327 | SkyTeam |
| Iran | ATA Airlines | McDD MD-83 | EP-TAN | Tabriz 2018 |
| Iran | ATA Airlines | McDD MD-83 | EP-TAR | Tabriz 2018 |
| China | Beijing Capital Airlines | Airbus A320 | B-6867 | Mengniu Dairies |
| China | Hainan Airlines | Airbus A330 | B-8287 | Hai!MANchester |
| Mauritius | Air Mauritius | Airbus A330 | 3B-NBL | 50 Years |
| Japan | Skymark Airlines | Boeing 737-800 | JA73NK | Hanshin Tigers |
| UAE | Emirates | Boeing 777-300ER | A6-EPO | Dubai Expo2020 |
| Vietnam | VietJetAir | Airbus A321 | VN-A651 | 9000th Airbus Aircraft |
| Spain | Iberia | Airbus A319 | EC-KHM | Oneworld |
| Canada | Sunwing Airlines | Boeing 737-800 | C-GOWG | Oasis Hotels & Resorts |
| Mexico | Aeromexico | Boeing 737-800 | XA-AMM | Coca-Cola/Christmas |
| UAE | Emirates | Boeing 777-300ER | A6-EQH | Year Of Zayed 2018 |
| Germany | Lufthansa | Airbus A320 | D-AIZX | 5 Starhansa |
| Germany | Lufthansa | Boeing 747-8 | D-ABYM | 5 Starhansa |
| UK | easyJet | Airbus A319 | G-EZBG | Hamburg Flag |
| USA | Miami Air | Boeing 737-800 | N750MA | FOX TV/LA To Las Vegas |
| USA | American Airlines | Boeing 737-800 | N921NN | American Airlines 1967 Retro |
| UK | easyJet Europe | Airbus A320 | OE-IJB | 250th Airbus |
| Germany | Lufthansa | Airbus A320 | D-AIZB | 5 Starhansa |
| China | Hainan Airlines | Boeing 787-9 | B-1343 | Kung-Fu Panda (Bronze) |
| Malaysia | Malaysia Airlines | Airbus A350-900 | 9M-MAC | Malaysia Negaraku |
| Japan | Japan Transocean Air | Boeing 737-800 | JA06RK | Sakura Jimbei |
| USA | Virgin America | Airbus A321neo | N925VA | Most West Coast |
| Australia | Alliance Airlines | Fokker 100 | VH-FGB | 90th Anniversary - First Trans-Pacific Flight |
| China | Loong Air | Airbus A320 | B-8897 | Picturesque Zhejiang |
| UAE | Emirates | Airbus A380 | A6-EUA | Year Of Zayed 2018 |
| Kuwait | Kuwait Airways | Boeing 777-300ER | 9K-AOE | National & Liberation Day |
| South Korea | Jeju Air | Boeing 737-800 | HL8062 | TVXQ/U-Know Yunho |
| UAE | Emirates | Airbus A380 | A6-EEU | Year Of Zayed 2018 |
| India | Vistara | Airbus A320neo | VT-TNB | #NotJustAnotherNeo |
| Malaysia | MASWings | ATR 72-500 | 9M-MWF | Negaraku |
| Malaysia | Firefly | ATR 72-500 | 9M-FYL | Fantasia Aquapark |
| China | China Eastern Airlines | Airbus A330 | B-6083 | Snickers |
| Turkey | Turkish Airlines | Airbus A321 | TC-JRP | Star Alliance |
| Spain | Air Europa Express | Embraer ERJ190 | EC-KRJ | Rafa Nadal Sports Centre |
| UK | Titan Airways | Boeing 737-300 | G-POWC | Coca-Cola FIFA World Cup Trophy Tour |
| Canada | Sunwing | Boeing 737-800 | C-GKVL | Paradisus / Melia Hotels |
| China | China Eastern Airlines | Airbus A330 | B-6507 | Shanghai Disney Resort |
| Japan | All Nippon airways | Boeing 777-200ER | JA741A | Hello2020Jet Tokyo 2020 Olympics |
| China | Xiamen Airlines | Boeing 787-9 | B-1356 | United Nations Sustainability Development Goals |
| UK | DHL Air | Boeing 767-300F | G-DHLG | The Grand Tour (Richard Hammond 'Small Goods') |
| India | Jet Airways | Boeing 737-800 | VT-JFC | #AudiA5BratPack (#New at 8-Feb-18) |
| India | SpiceJet | Boeing 737-800 | VT-SLL | Prega News (#New at 8-Feb-18) |
| Mexico | VivaAerobus | Airbus A320 | XA-VAP | Tecate P'al Norte 2018 (#New at 8-Feb-18) |
| UAE | Emirates | Boeing 777-300ER` | A6-ECE | Year Of Zayed 2018 |
| UAE | Emirates | Boeing 777-300ER | A6-EGZ | Year Of Zayed 2018 |
| UAE | Emirates | Boeing 777-300ER | A6-ECY | Year Of Zayed 2018 (#New at 12-Feb-18) |
| UK | Virgin Atlantic Airways | Airbus A340 | G-VNAP | A Big Virgin Atlantic Thank You (#New at 12-Feb-18) |
| Australia | Qantas | Boeing 787-9 | VH-ZND | Yam Dreaming (#New at 14-Feb-18) |
| Japan | Japan Transocean Air | Boeing 737-800 | JA03RK | The Birthplace Of Karate: Okinawa (#New at 14-Feb-18) |
| UAE | Emirates | Airbus A380 | A6-EUB | PSG - Paris St Germain football team (#New at 14-Feb-18) |
| UAE | Emirates | Airbus A380 | A6-EUG | FC Real Madrid football team (#New at 14-Feb-18) |
---
Sources:
FlightRadar24.com – PlaneSpotters.net – JetPhotos.com – Airliners.net – Skyliner-Aviation.de