December 7, 2013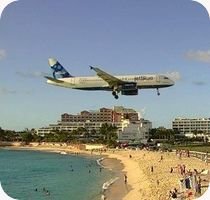 Princess Juliana International Airport (aka Saint Maarten International Airport), Sint Maarten, Netherlands Antilles
IATA: SXM ~  ICAO: TNCM
UTC: -4 ~  TYPE: International
Flight Traffic:
Flight Data: 
FlightStats  ~  FlightAware ~ Airport Data
Airport Links: 
We've selected the best spotter videos & on-board videos from this airport.
See them on our St Maarten Airport Videos Page. See all our Airport Videos Pages.
Webcam Viewing Options::
Cam Location: Off-Airport. Car rental premises S. of Runway 10/28.
Cam View: Host-controllable. Usually W at Runway 10/28 arrivals & departures. Frequent zooms on airport activity. Live ATC available above video image.
Cam Refresh Speed: Streaming.
Cam Location: Off-Airport. Sunset Beach Bar adjacent to Maho Beach.
Cam View: 2 cams. 1: Fixed view of Maho Beach & 'extreme approach' onto Runway 10. Also 'fence-surfers' standing behind departing aircraft. – 2: Host-controllable view of arrivals & departures to/from Runway 10/28.
Cam Refresh Speed: Streaming.
* Currently offline.
Notes: One of the world's most extreme approach airports due to its proximity to the beach and short runway, St Maarten is popular for low overhead photo opportunities of aircraft just prior to touchdown, and 'fence surfers' on Maho Beach, who stand behind jets throttling up on departure from Runway 10.
For the Caribbean's other 'extreme-approach' airport, please see the streaming webcams at St Barts/Gustav III Airport.