November 26, 2017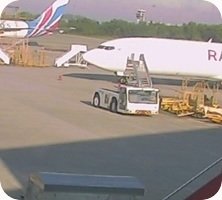 Webcam Viewing Options:
Cam Location: On-Airport. Raya Airways premises, E. side of airport (Google Maps).
Cam View: Cam 1: NW at GA/Bizjet apron, maintenance hangar beyond. – Cam 2: W. at Raya Airways apron.
Cam Refresh Speed: 1-2 seconds automatic.
Notes: Formerly Kuala Lumpur International Airport before the new KLIA opened in 1998.