Airport Webcams.net archive
Tag: boeing 747
February 10, 2016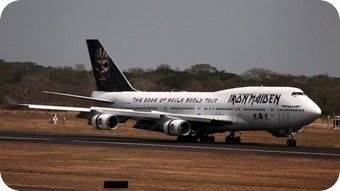 Iron Maiden: The Book Of Souls North America Tour 2017
Tour transport: TBA
NEW: See all our #EdForceOne webcam captures, news updates & photo retweets.
NEWS:
Information will shortly be announced regarding the aircraft (if any) that iron Maiden will utilise for the 2017 North American dates of their Book Of Souls Tour. Keep checking back here for more details.

North America Tour 2017 – Dates confirmed:
JUN 03   BRISTOW, VA                                 JIFFY LUBE LIVE
JUN 04   PHILADELPHIA, PA                       WELLS FARGO CENTER
JUN 07   NEWARK, NJ                                 PRUDENTIAL CENTER
JUN 09   CHARLOTTE, NC                           PNC MUSIC PAVILION
JUN 11   TAMPA, FL                                     AMALIE ARENA
JUN 13   NASHVILLE, TN                             BRIDGESTONE ARENA
JUN 15   CHICAGO, IL                                  HOLLYWOOD CASINO AMPHITHEATER
JUN 16   MINNEAPOLIS, MN                      XCEL ENERGY CENTER
JUN 19   OKLAHOMA CITY, OK                  CHESAPEAKE ARENA
JUN 21   HOUSTON, TX                              TOYOTA CENTER
JUN 23   DALLAS, TX                                  AMERICAN AIRLINES CENTER
JUN 24   SAN ANTONIO, TX                       AT&T CENTER
JUN 27   ALBUQUERQUE, NM                    ISLETA AMPHITHEATER
JUN 28   PHOENIX, AZ                                TALKING STICK RESORT ARENA
JUL 01   SAN BERNARDINO, CA                GLEN HELEN AMPHITHEATER*
JUL 03   LAS VEGAS, NV                            T-MOBILE ARENA
JUL 05   OAKLAND, CA                               ORACLE ARENA
JUL 07   SALT LAKE CITY, UT                     USANA AMPHITHEATER
JUL 09   LINCOLN, NE                                 PINNACLE BANK ARENA
JUL 11   KANSAS CITY, MO                        SPRINT CENTER
JUL 12   ST LOUIS, MO                               HOLLYWOOD CASINO AMPHITHEATER
JUL 15   TORONTO, CANADA                     BUDWEISER STAGE
JUL 16   QUEBEC CITY, CANADA               VIDEOTRON CENTRE
JUL 19   MANSFIELD, MA                           XFINITY CENTER
JUL 21   BROOKLYN, NY                             BARCLAYS CENTER
All images (c) Iron Maiden LLP

December 30, 2015
Citations of AirportWebcams.net in the global printed and online media – Click on the thumbnail to view the text full-size.
Flight: Delta Airlines DAL135, Amsterdam Schiphol to Detroit, Boeing 747 N662US
Incident: Birdstrike in No.2 engine. Circled over Norfolk, UK before returning to Amsterdam.
Publication & Link: Parool.nl
~ ~ ~ ~ ~ ~ ~ ~ ~ ~ ~ ~ ~ ~ ~ ~ ~ ~ ~ ~ ~ ~ ~ ~ ~ ~ ~ ~ ~ ~ ~