Airport Webcams.net archive
Tag: fort lauderdale
March 9, 2014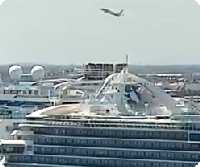 Webcam Viewing Options::
Area Cams: 1 – 2 – 3
Cam Location: Off-Airport. Site 1: Hyatt Regency Hotel, Fort Lauderdale (NE of Airport). – Site 2: Building NE of Airport. – Site 3: 15th Street Fisheries (NE of Airport).
Cam View: Site 1 & 2: SW at Deps. from Runway 09L&R, Arrivals onto Runway 27L&R. – Site 3: SE at Arrivals onto 27L&R.
Cam Refresh Speed:: Streaming.
Notes: Cams are primarily for viewing of vessels in Fort Lauderdale port, and may not show app/dep. air traffic at all times.