Airport Webcams.net archive
Tag: freiburg
March 9, 2014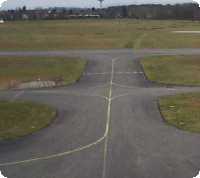 Webcam Viewing Options::
Cam Location: On-Airport. Cam 1: Control Tower. – Cam 2: Aero club building.
Cam View: SW at apron, Runway 16/34.
Cam Refresh Speed:: 60 seconds manual (automatic in Javacam).

December 12, 2013
EuroAirport Basel-Mulhouse-Freiburg (Aeroport de Bale-Mulhouse; Flughafen Basel-Mulhouse), serving Basel (Switzerland), Mulhouse (France), Freiburg (Germany)
IATA: BSL, MLH, EAP ~  ICAO: LFSB
UTC: +1 ~  TYPE: International
Flight Traffic:
Flight Data: 
FlightStats  ~  FlightAware ~ Airport Data
Airport Links: 
Notes: Jointly operated by France and Switzerland. Located in France, but closest to Basel in Switzerland.
We've selected the best spotter videos & on-board videos from this airport.
See them on our EuroAirport Basel Airport Videos Page. See all our Airport Videos Pages.