Airport Webcams.net archive
Tag: las vegas
July 9, 2017

January 25, 2015
Las Vegas McCarran International Airport, Las Vegas, Nevada, USA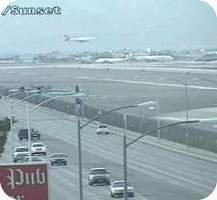 IATA: LAS ~  ICAO: KLAS
UTC: -8 ~  TYPE: International
Flight Traffic:
Flight Data: 
FlightStats  ~  FlightAware ~ Airport Data
Airport Links: 
Webcam Viewing Options::
Cam Location: Off-Airport. Traffic camera on street structure.
Cam View: NW at Runways 07/25L&R, taxiways & Arrivals onto Runways 01/19L&R. NOTE: Primarily a traffic cam, the view may change at any time and for any length of time.
Cam Refresh Speed: 1 second automatic.
Notes:  * CURRENTLY OFFLINE.
On the traffic map, click the blue pin at SE of airport (above I-562 road). Cam will play for 9 frames, but see below. Click blue pin again to resume.
BEST VIEW: Javacam Player. In Javacam, webcam will play for 1 hour. Instructions:
1. Download and install Javacam from the link above. Open subfolder 'Airport Cams' and click 'Las Vegas' once.
2. At bottom left of left-hand pane, click 'Edit Item' button to pop up Camera Properties box.
3. Go to traffic cam web site at the link above, set webcam playing and right-click on cam image to copy its URL (this will expire after 1 hour).
4. Go to Javacam and paste URL into Web Address field. Click OK to close Camera Properties box.
5. Double click 'Las Vegas' from the cams list to play the cam for 1 hour. After it has expired, refresh traffic cam page, copy new URL and repeat steps above.
We've selected the best spotter videos & on-board videos from this airport.
See them on our Las Vegas McCarran Airport Videos Page. See all our Airport Videos Pages.