Airport Webcams.net archive
Tag: Melbourne airport webcam
January 7, 2018
Melbourne/Moorabbin Airport (Moorabbin Harry Hawker Airport, Harry Hawker Airport), SE Melbourne, Victoria, Australia
IATA: MBW ~  ICAO: YMMB
UTC: +10 ~  TYPE: General (Runway)
Flight Traffic:
Flight Data: 
FlightStats  ~  FlightAware  ~  Airport Data
Airport Links: 
We've selected the best spotter videos & on-board videos from this airport.
See them on our Moorabbin Airport Videos Page. See all our Airport Videos Pages.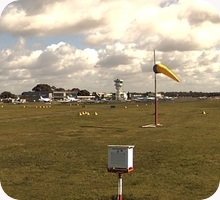 Webcam Viewing Options:
Cam Location: On-Airport. Airport buildings.
Cam View: 4 cams. NE, SE, SW & NW at hangars, taxiways and Runways 13/31L&R, 17/35L&R.
Cam Refresh Speed: 2 minutes manual (automatic in Javacam).
Notes: One of Australia's busiest airports in terms of movements.