Airport Webcams.net archive
Tag: svalbard
August 6, 2017

March 16, 2015
One of the greatest spectacles of nature is undoubtedly a total solar eclipse. Quite often, however, they are only 'total' over a small swathe of the Earth, and that sometimes doesn't include land at all. But with live webcams, you can enjoy the spectacle without leaving home. Due to expected cloud cover, the total eclipse on March 20th this year is not expected to be seen by many people unless they are in an aircraft above the clouds, but the spectacle of seeing almost complete darkness descend on the land in the middle of the day is very memorable (as I experienced at Plymouth, England in 1999).
We have links to many airport webcams which should provide viewers with this unforgettable experience, but don't forget, totality lasts barely two minutes!
The two airport webcams right at the heart of totality are Vagar on the Faroe islands, and Ny Alesund on Svalbard Island.
The Faroes are gearing up for the biggest influx of visitors in its history, so watching its usually-quiet airport apron fill up will be a spectacle on its own! There are three webcams at Vagar, automatically refreshing every 15 seconds. Totality over the Faroes begins at 09:41 GMT and lasts for about two minutes.
Vagar Airport webcams.
The eclipse will then be visible from Svalbard, where there is a webcam at the airstrip serving Ny Alesund research station, requiring a manual refresh every minute. Totality here begins at 10:11 GMT and last for two and a half minutes.
Ny Alesund Airport webcam.

Outside the zone of totality there are many places with airport webcams which will show a notable lack of daylight as the eclipse path passes. It will pass South of Iceland, but Reykjavik is still expected to receive 98% totality. There are two streaming webcams to watch this happen:
Reykjavik City Airport webcams
.
Our other Icelandic airports worth watching are:
Sandskeid – Selfoss – Blonduos – Akureyri.
The Scottish Shetland Islands and Orkneys will also see more than 90% totality, so it's definitely worth looking at their airport webcams:
Shetland Sumburgh – Orkney Kirkwall.
Our newest webcam at Tromso in Norway will be a good bet too, as will Mehamn – both airports are at the very top of Norway, well within the Arctic Circle.
Tromso Airport – Mehamn Airport
The path of totality virtually runs parallel to the Norwegian Atlantic coast, from South to North, so the following airport webcams could make good viewing:
Stavanger – Haugesund – Bergen.
If you Tweet any captures on Friday morning from the cams linked to from this blog post, please reference @AirportWebcams so we can all share in this very rare experience!


December 26, 2013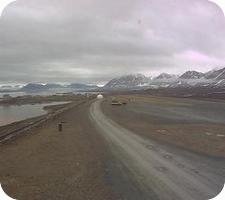 Webcam Viewing Options::
Cam Location: On-Airport. Office building.
Cam View: NW at Rwy 12/30.
Cam Refresh Speed:: 60 seconds manual.
Notes: Airport serves scientific research community on Svalbard.