Tokyo Haneda Airport Webcam
Tokyo Haneda International Airport (Tokyo Kokusai Kuko), Tokyo, Japan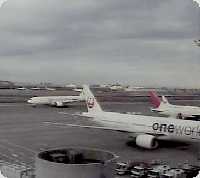 IATA: HND ~  ICAO: RJTT
UTC: +9 ~  TYPE: International
Flight Traffic:
Flight Data: 
FlightStats  ~  FlightAware ~ Airport Data
Airport Links: 
Notes:
– Haneda is the world's fourth busiest airport by passenger traffic, after Atlanta, Beijing and London Heathrow.
– See also Tokyo Narita International webcam.
We've selected the best spotter videos & on-board videos from this airport.
See them on our Tokyo Haneda Airport Videos Page. See all our Airport Videos Pages.
Webcam Viewing Options::
Cam Location: On-Airport. Terminal buildings and masts.
Cam View: 4 views of aprons, gates & Runways 34L&R.
Cam Refresh Speed:: 5-7 minutes.
Notes: Camera can display previous 8 frames. Press left button |<< to rewind, then fourth button >> to progress through frames. The middle button > can then be used to cycle through the frames automatically.
Cam Location: Off-Airport. Tokyo Monorail terminal (W of airport).
Cam View: NW at Runway 04 Hold, plus hangars.
Cam Refresh Speed:: Streaming.
Notes: To operate, click the crosshairs & adjust screen size from dropdown menu if required. Click single green tree icon repeatedly to zoom, then click on the video image to pan right.

© 2018 - Airport Webcams.net