February 5, 2014
Toulouse-Blagnac Airport (Aeroport de Toulouse-Blagnac), Toulouse, France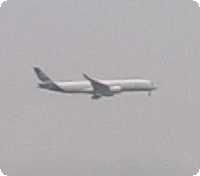 IATA: TLS ~  ICAO: LFBO
UTC: +1 ~  TYPE: International
Flight Traffic:
Flight Data: 
FlightStats  ~  FlightAware ~ Airport Data
Airport Links: 
Webcam Viewing Options::
Cam Location: Off-Airport. City building.
Cam View: SW at finals for Runway 32.
Cam Refresh Speed:: Streaming. Time out after 60 seconds.
Instructions: Watch in synch with flight traffic web sites on the left.   
1. Click 'Take Control' button to start 60-second countdown.
2. Scroll vertical zoom bar to maximum zoom.
3. Click in right side of cam window to pan to far right (or place at far right the crosshairs in the thumbnail image below the resolution options).
Notes: Home to the Airbus and ATR factories. Extensive flight testing can be seen most days. Airbus flight numbers end with the last two letters of the test registration.

We've selected the best spotter videos & on-board videos from this airport.
See them on our Toulouse-Blagnac Airport Videos Page. See all our Airport Videos Pages.